Overwhelmed by mechanical instruments
Concert without performers
「森の音ホール」では、アンティーク・オルゴールなどの自動演奏楽器やからくり人形などのコレクションを展示しています。
こうした自動演奏楽器やからくり人形は、今から100年~150年ほど前に、ヨーロッパやアメリカを中心に活躍していました。
ROKKO森の音ミュージアムでは、コレクションの演奏・実演を実際にお楽しみいただけるコンサートを毎日開催しています。
大型の自動演奏楽器による迫力の生演奏や繊細なオルゴールの音色など、100年以上前の人々も耳にしていた音色をお楽しみください。
Performance program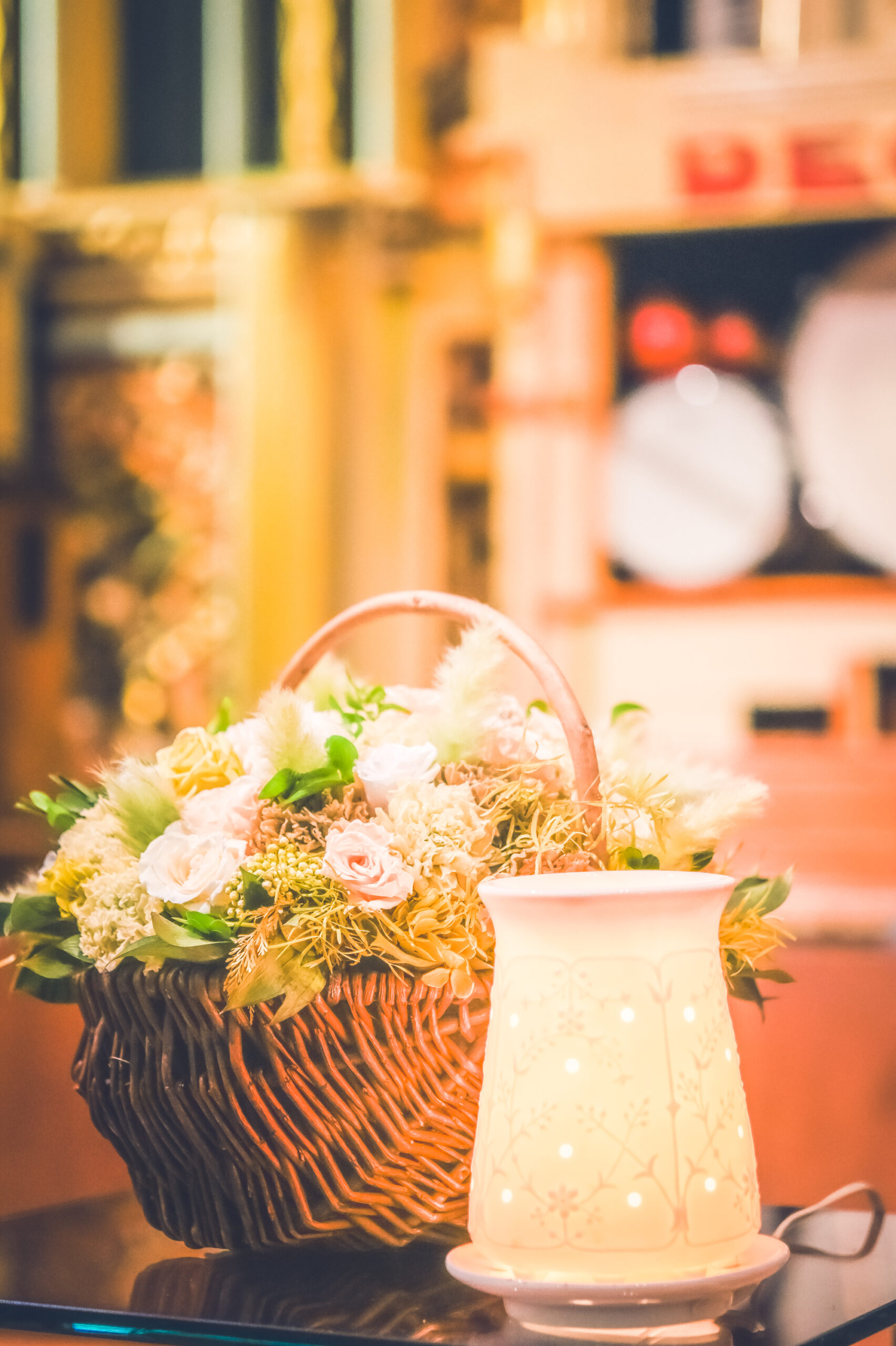 Concert without performers
人間が演奏するのではなく、自動演奏楽器が自動で演奏を行うコンサートを、当施設では「演奏家のいないコンサート」と題しています。
コンサートのテーマは季節ごとに変わります。個性豊かなコンサートスタッフたちが、テーマに合わせて演奏する楽器や楽曲をその時々でピックアップしてご紹介します。
テーマ

演奏家のいないオータムコンサート
 2023年8月26日(土)~11月23日(木祝)
演奏家のいないイルミネーションコンサート
 2023年11月24日(金)~12月25日(月)
演奏家のいないウィンターコンサート
 2023年12月26日(火)~2024年3月15日(金)

time

■下記期間以外

10: 00 ~ / 11: 00 ~ / 12: 00 ~ / 13: 00 ~ / 14: 00 ~ / 15: 00 ~ / 16: 00 ~ (30 minutes each time)

■8月26日(土)~11月23日(木・祝)の土日祝

10: 00 ~ / 10: 30 ~ / 11: 00 ~ / 11: 30 ~ / 12: 00 ~ / 12: 30 ~ / 13: 00 ~ / 13: 30 ~ / 14: 00 ~ / 14: 30 ~ / 15: 00 ~ / 15: 30 ~ / 16: 00 ~ (20 minutes each time)

*In order to increase the number of concerts held during times of congestion, the holding time may be changed suddenly. Please note.

detail

各プログラムの詳細はこちら

から
・ ・ ・ Simultaneously held ・ ・ ・
In addition to concerts, we also hold programs to introduce the appeal of automated mechanical instruments and puppets.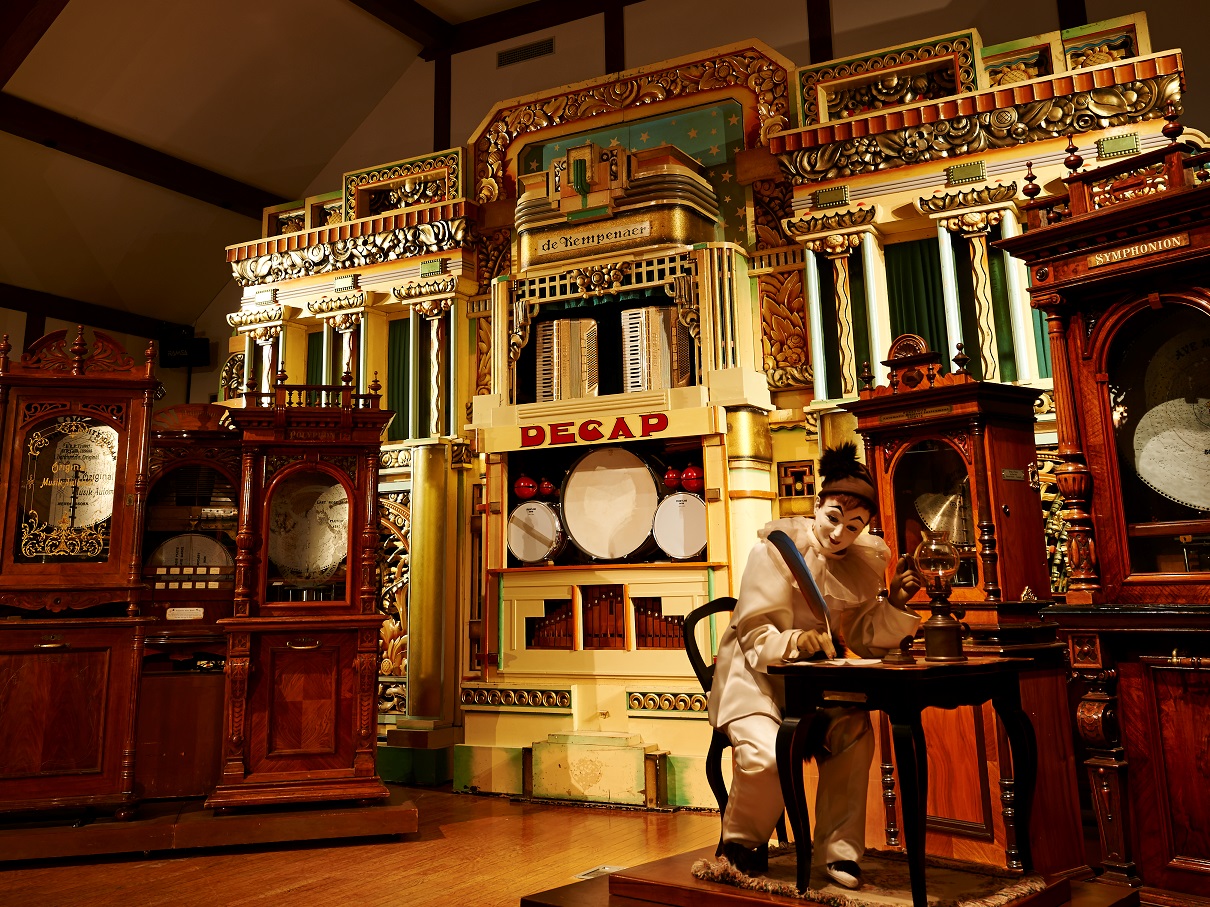 Special time
From themes that children and adults can enjoy to slightly deeper themes, we will change the theme to approach the charm of the collection.
During this time, you can freely take pictures and videos of performances and demonstrations, so it is perfect for making memories.
period

2023/3/18 (Sat) - 2024/3/15 (Fri)

※ 8/26(土)~11/23(木)の土日祝日は除く

Performance time

11: 35 ~ / 14: 35 ~ (about 10 minutes each time)

*In order to increase the number of concerts held during times of congestion, the holding time may be changed suddenly. Please note.

detail

​Click here for details of the program contents
Collection introduction
*The performance time stated may change without notice depending on the condition of the instrument. Please note.
cylinder musical box Sublime Harmonie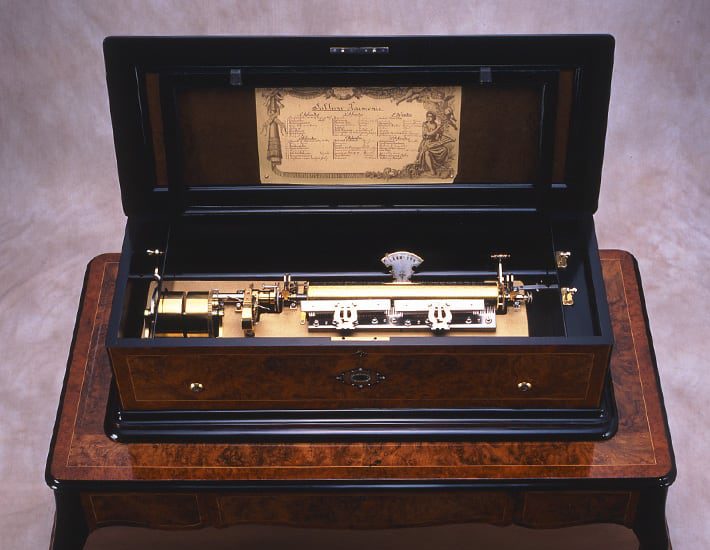 Automatic Doll Ecrivain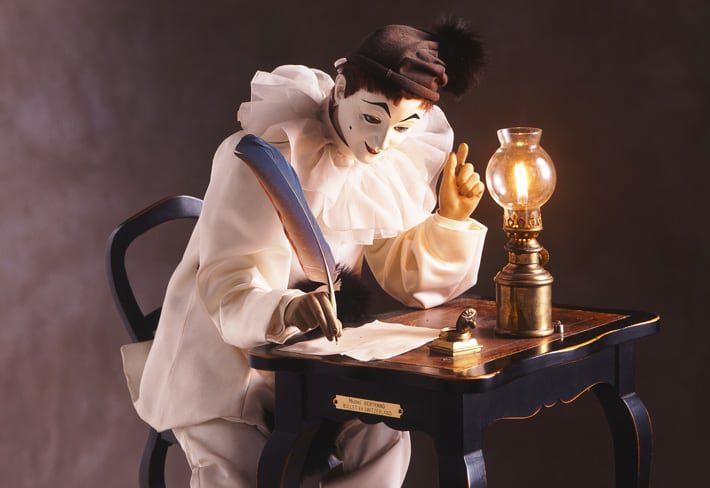 Ecrivan
1988 Swiss Michel Bertrand
A clown is writing a letter late at night. When you start to fall asleep, the lamp is about to go out. The awakened clown turns on the light and then begins writing the letter again.
disk musical box Lochmann "original" type 172
Automatic Performance Organ Decup Dance Organ "Kempener"
Decap Dance Organ "De Kempenaer"
1938 Made by Belgian Decup
The world's largest dance organ with a height of about 4.6m and a width of about 7.8m. He was active as a substitute for the orchestra in dance halls. The powerful performance and the variety of songs will entertain the listener from the bottom of their hearts.
| period | Demonstration time |
| --- | --- |
| ~2023/11/23 | 10:00~/12:00~/13:00~/14:00~ |
| 2023/11/24~ | 10:00~/12:00~/14:00~/16:00~ |
* Performed within the above concert time
RUMBA TAMBA [1 minute 46 seconds]
Violin Phonoliszt-Violina Violin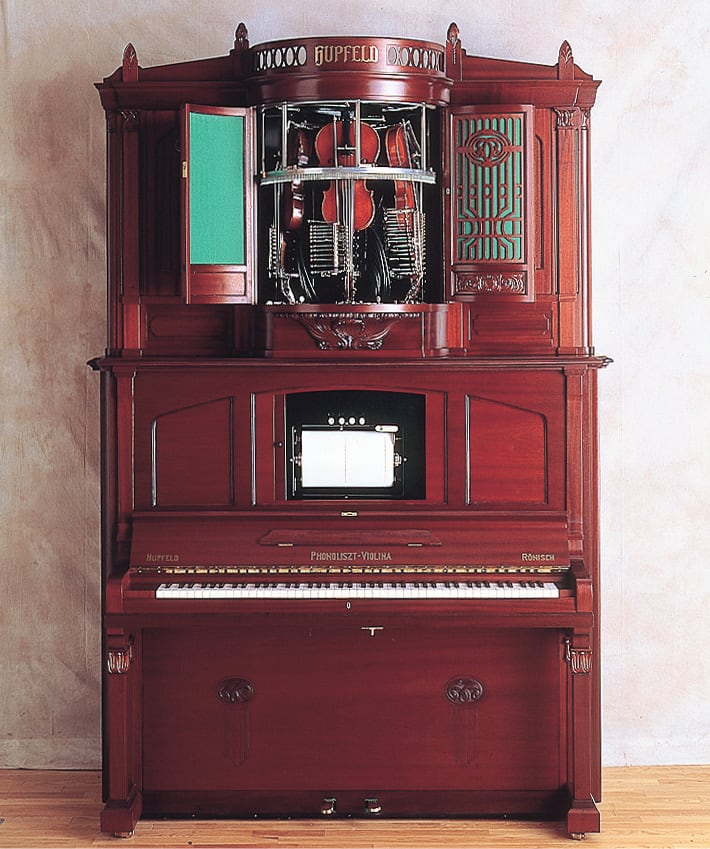 Phonoliszt-Violina
Around 1910 Made by Huffelt, Germany
(Reconstruction of Siegfried Wendell in 1993)
Three violins play the melody on the piano accompaniment. The metal ring attached to the outside of the violin string acts as a bow, and the violin itself leans toward the bow to make a sound.
| period | Demonstration time |
| --- | --- |
| all year | 11:00~/15:00~ |
* Performed within the above concert time
"Open your heart to your voice" from the opera "Samson and Delilah" (composed by Saint-Saens) [6 minutes 16 seconds]
Automatic performance organ Verte type 2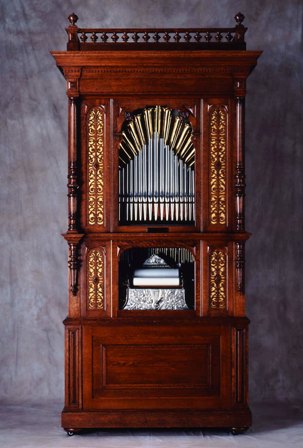 Welte style 2
1900 German Verte
This is an automatic performance organ that mainly consists of wooden and metal pipe organs, as well as large and small drums, cymbals, and triangles. It is also called an "orchestrion" because it plays like an orchestra. At that time, it was used as a substitute for orchestras in concert halls and luxury liners.
Automatic playing organ Harvest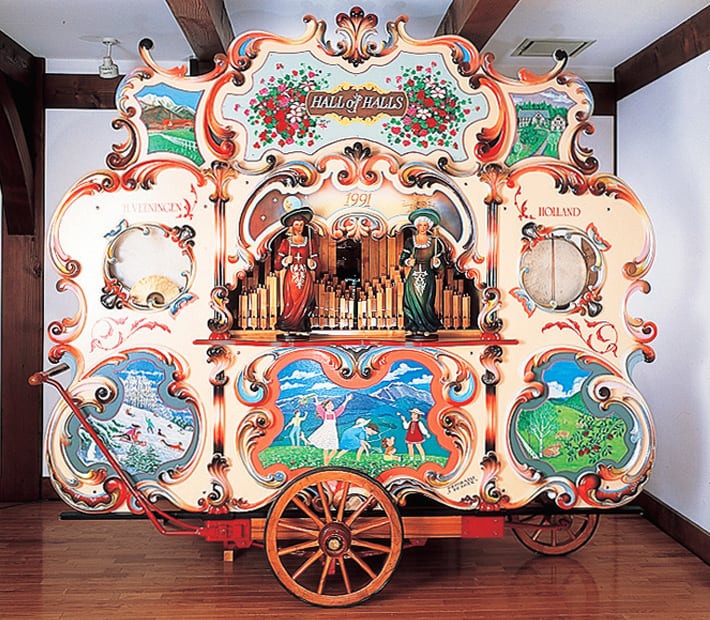 Harvest
1991 Netherlands Henk Feninchen
It is a large hand-cranked organ with a length and width of about 3m. With the addition of large and small drums and cymbals, it features a gorgeous performance. Play by turning the iron handle with a diameter of 70 cm on the back side. It is an instrument that can be enjoyed in a large outdoor area such as a festival square.
The Cuckoo Waltz (composed by Jonasson)[2 minutes 13 seconds]
Staff's recommended collection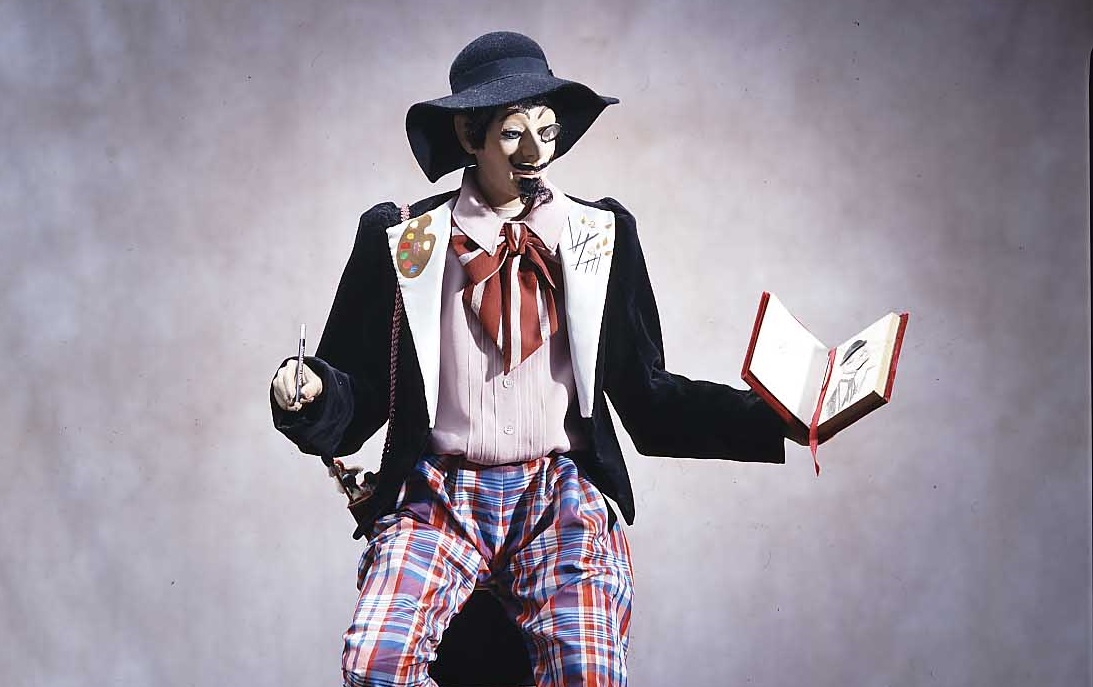 Automaton Ernest
When I was a fan, I really wanted to see him and waited for 3 hours until the appearance time. When I became a staff member and was able to move him, I was deeply moved.
Ernest pushing staff
I'm a genuine fan I've been attending since I was 4 years old! I love the collection including automata! I have been attending as a customer for a longer time than as a staff member, so I am aiming for a concert that I find fun to attend. I want to enjoy both surprises and discoveries ♪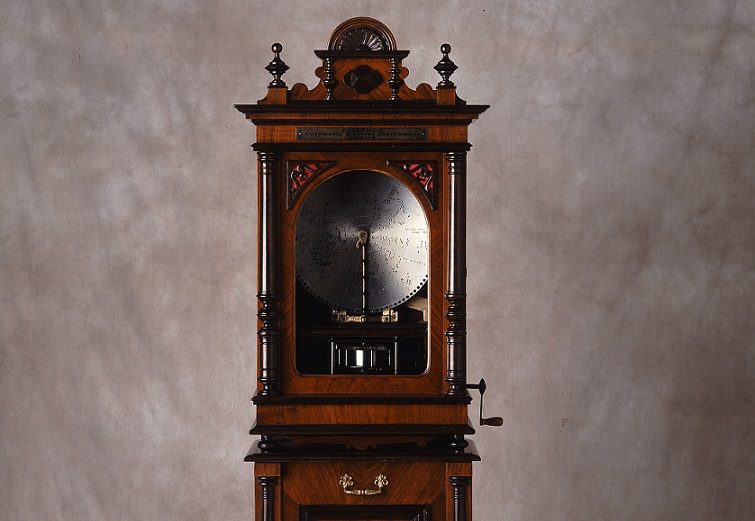 disk musical box polyphone 103 type
It is a disk musical box with "Drop a Penny in the slot" written on the side, which is thought to have been used in cafes and pubs in England. It makes me feel the everyday life of England at that time.
Polyphone 103 type pushing staff
He specializes in the history of Europe in the 19th and 20th centuries, when mechanical instruments were active, especially the history of entertainment in England. What was the state of people's lives at that time and what were the mechanical instruments that colored them? Introducing the history and culture surrounding the collection.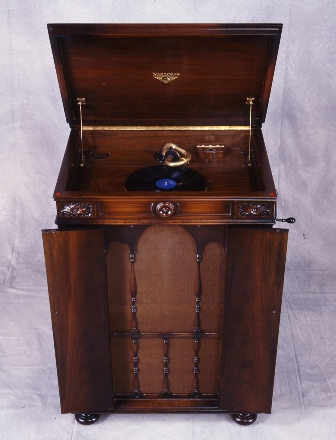 Phonograph Victorola Credenza
It is a model called "the highest peak of gramophone". The power of the sound produced without electrically amplifying the sound cannot be fully conveyed in the video. By all means, it is a gem that you want to hear the sound directly.
Credenza
pushing staff
I have been involved in the collection for about 10 years. Every collection is unique and mood, and sometimes it stops playing or misses the sound. With the feeling of being the manager of such a difficult collection, we aim to create a concert that complements the protagonists.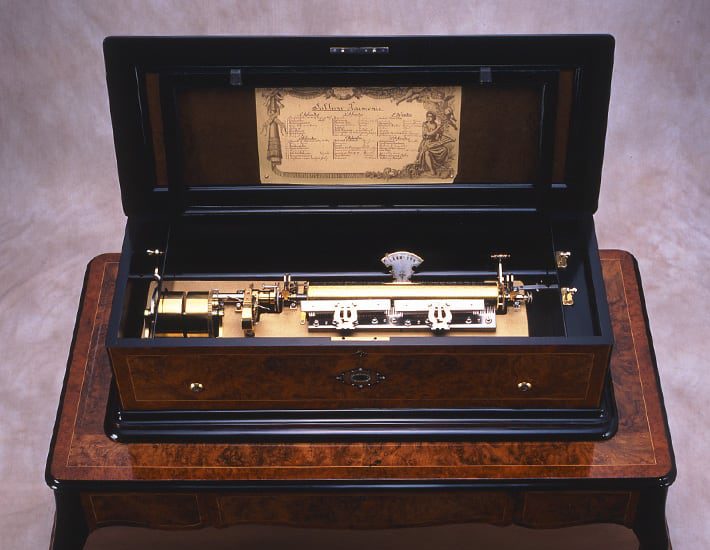 cylinder musical box Sublime Harmonie
The one-sided heather pattern (a complicated pattern that rarely appears unlike ordinary wood grain) and the Raden work in the center are wonderful and fascinating to see at any time. The cat legs that support the heavy musical box are also designed to have a luxurious feel.
Sublime Harmonie Guessing Staff
Various types of wood are used for beautifully aesthetically pleasing mechanical instruments. Taking advantage of my experience in woodworking, I will introduce the highlights of beautiful cases. If you would like to hear about a little maniac wood, please let us know!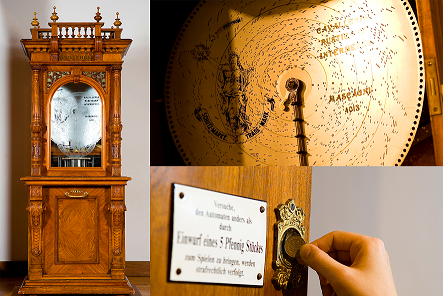 disk musical box Polyphone 54 type "Mikado"
When I first heard the tone of this musical box, I wondered if it would have such a rich tone. It is also recommended to listen while imagining how people over 100 years ago listened to this tone.
Polyphone 54 type "Mikado" pushing staff
All of our collections are fascinating and unique instruments. I am studying every day to listen to the timbre, look at the shape, and communicate with each instrument. Please enjoy the sounds of the instrument as if you were friends.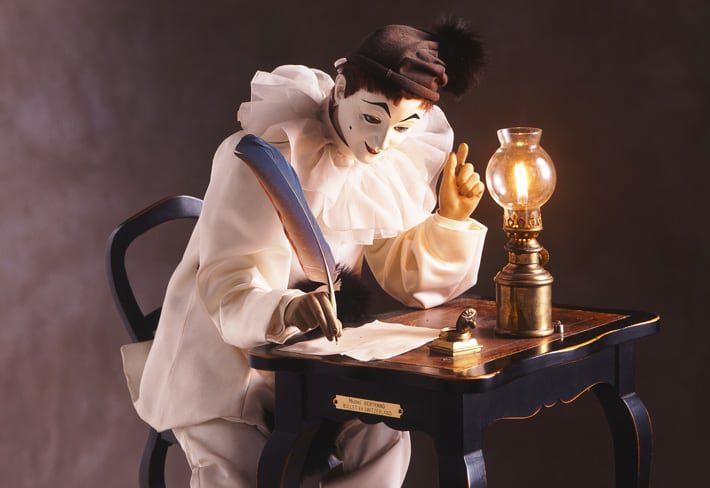 Ecrivain
It is an automaton that shows a story that makes you stare at it and the beauty of detailed modeling in a short time. There are some interesting points about costumes and keys, so please have a look near them.
Ecrivain 's staff
I am interested in the history of clothing and the history of automata in the world. We hope that you will be immersed in the timbre of the historic musical instruments that have changed in this facility, which is surrounded by beautiful nature that never changes. We will happily show you the charm of mechanical instruments and automata.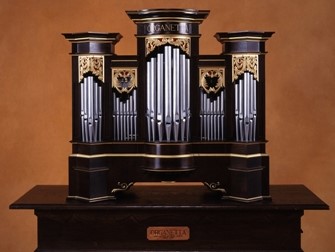 Automatic playing organ Organetta II
It is a hand-cranked organ made in modern Japan that the maker lovingly produces one by one. It features a warm and gentle tone. I am fascinated by the beauty of the appearance and the cuteness of the attached bell and drum.
Organetta type II support staff
When I first heard the sounds of the collection, I was soothed by the soothing tones of the musical box, and I was very moved by the powerful performance of the organ. We would like as many people as possible to listen to the tones of our collection and convey the appeal of our instruments.