Mt. ROKKO CABLE CAR & TOURISM COMPANY
1-32 Ichigaya, Rokkoyama-cho, Nada-ku, Kobe 657-0101, Japan
View on Google Map
Map icon
​ ​facility
Restaurant / Cafe
shop
Wheelchair priority toilet
Baby room
Parking Lot
Rokko Sanjo Bus Station
IC/JCT
Such
Convenient use of maps
You can see the spot information on the map by category. Turn the check box ON/OFF (display/non-display) for easy confirmation.
You can share this map on SNS and email.
It can be displayed large on Google Maps.
It is convenient for those who are viewing on a smartphone.
Mt. ROKKO CABLE CAR & TOURISM COMPANY 1-32 Ichigaya, Rokkoyama-cho, Nada-ku, Kobe 657-0101, Japan
View on Google Map

Those coming by car

You can search directions on Google Map
It is convenient because each facility has its own parking lot ♪ Parking tickets are common to all facilities, so let's go around the facility at an affordable price!
If you come by car, it's a good entry!
[2 facilities common ticket]

Those coming by train or bus

You can search directions on Google Map

Hankyu Rokko Station /JR Rokkomichi /Hanshin Mikage Station to the Yamagami facility using public transportation!
*From Rokko Cable Car Shimo Station, the gateway to Mt. Rokko, to the Rokko Cable Car Car! (About 10 minutes to the mountaintop).
*For transportation at the Rokko Sanjo facility, see below. Transportation on Mt. Rokko "Please refer to the.
Climb to Mt. Rokko

Rokko Cable Car

If you take the Rokko Cable Car, you will get a good-value ticket that includes a ticket for the Rokko Sanjo Bus Table Rokko Tour Ticket Also check!


Rokko


Rokko Sanjo Bus
六甲ケーブル山上駅から出発して、ROKKO森の音ミュージアム、六甲高山植物園、六甲山アスレチックパークGREENIA、六甲ガーデンテラスなどの六甲山上のバラエティ豊かな施設を結ぶ山上バスです。クラシックなスタイルの車体で山上の小さな旅へとご案内します。六甲ミーツ・アート芸術散歩2023 beyond各会場へもこちらのバスにご乗車ください。

Affordable tickets
If you go to the Maya area


Rokko Maya Sky Shuttle Bus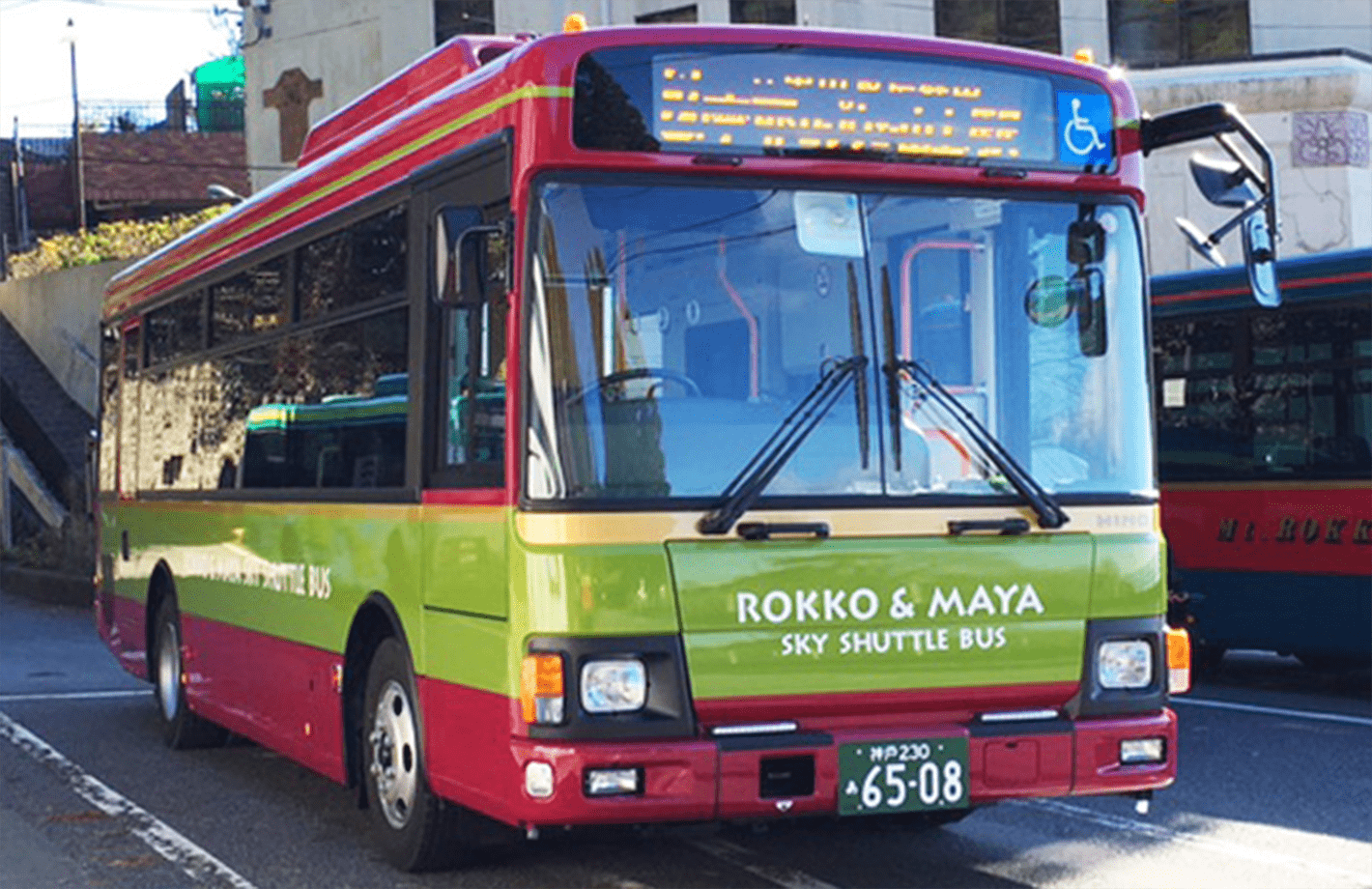 Rokko Cable Car Yamagami Station, the gateway to Mt. Rokko, runs via the Rokko Mountain Ranch and Mayayama Tenjoji Temple to the Maya Ropeway Yamagami Station ("Maya View Line Dream Walk" star station). The Rokko Maya Sky Shuttle Bus operates on weekdays, the Rokko Maya Sky Shuttle Bus and Hankyu Bus operate jointly on Saturdays, and the Hankyu Bus operates on Sundays and public holidays.
Affordable tickets
Extend a pair and go to the hot spring


Rokko-Arima Ropeway
Rokko-Arima Ropeway connects Arima Onsen Station and Rokko Sancho Station in about 12 minutes.
Normally, there are about 45 passengers and they run every 20 minutes. We will increase the number of trains when it is crowded.
Affordable tickets