巨大いちごが芝生エリアにごろっと登場!写真を撮ったり、転がしたり、体を動かしながら遊べる体験型のフォトスポットイベント!
好評につき「日本最大級のいちご狩りイベント」の開催延長決定!
 
Giant strawberry balloons of various sizes with a total length of about 2.0 to 2.8m will appear on the lawn area in the Greenia stadium!
There are various ways to play, such as rolling, collecting, and lifting. It is an experience-based photo spot where you can play by moving your body.
開催期間 2023年4月1日(土)~ 5月31日(水) 6月11日(日)
※いちごのスイーツは6月4日(日)までの提供を予定しております。商品は入荷状況、売れ行き状況により早期完売となる場合がございます。
料  金 無料(グリーニア入場料が別途必要です。)
※雨天・悪天候時は開催を中止いたします。
 
There are many ways to play with the giant strawberry balloon! Roll it, collect it, pick it up and take the best shot!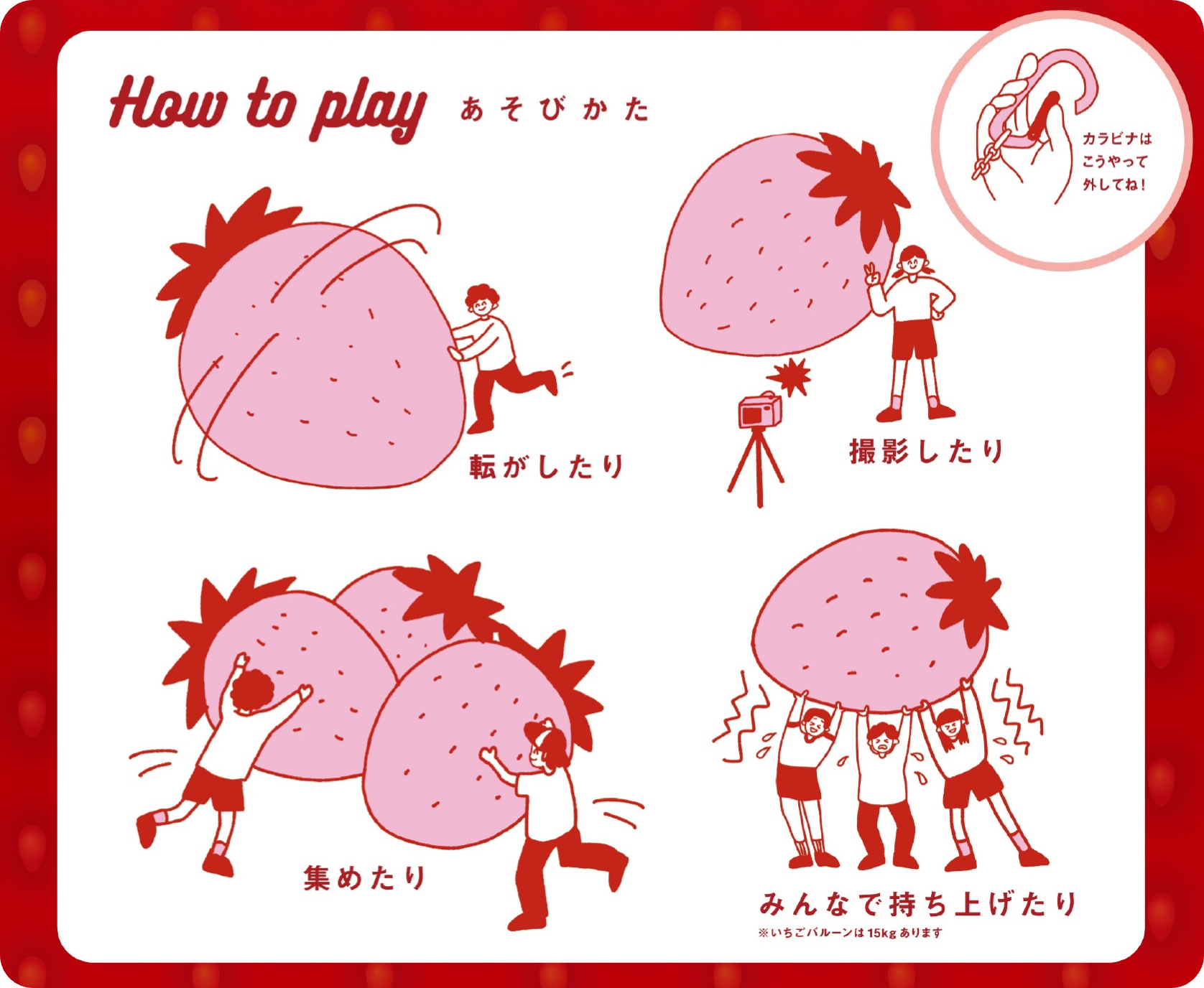 Sweets using seasonal strawberries are sold at the on-site shop "Green Leaf" during the event period. A limited-time sweet that you can enjoy both the appearance and the taste, with the concept of a giant strawberry rolling on the lawn.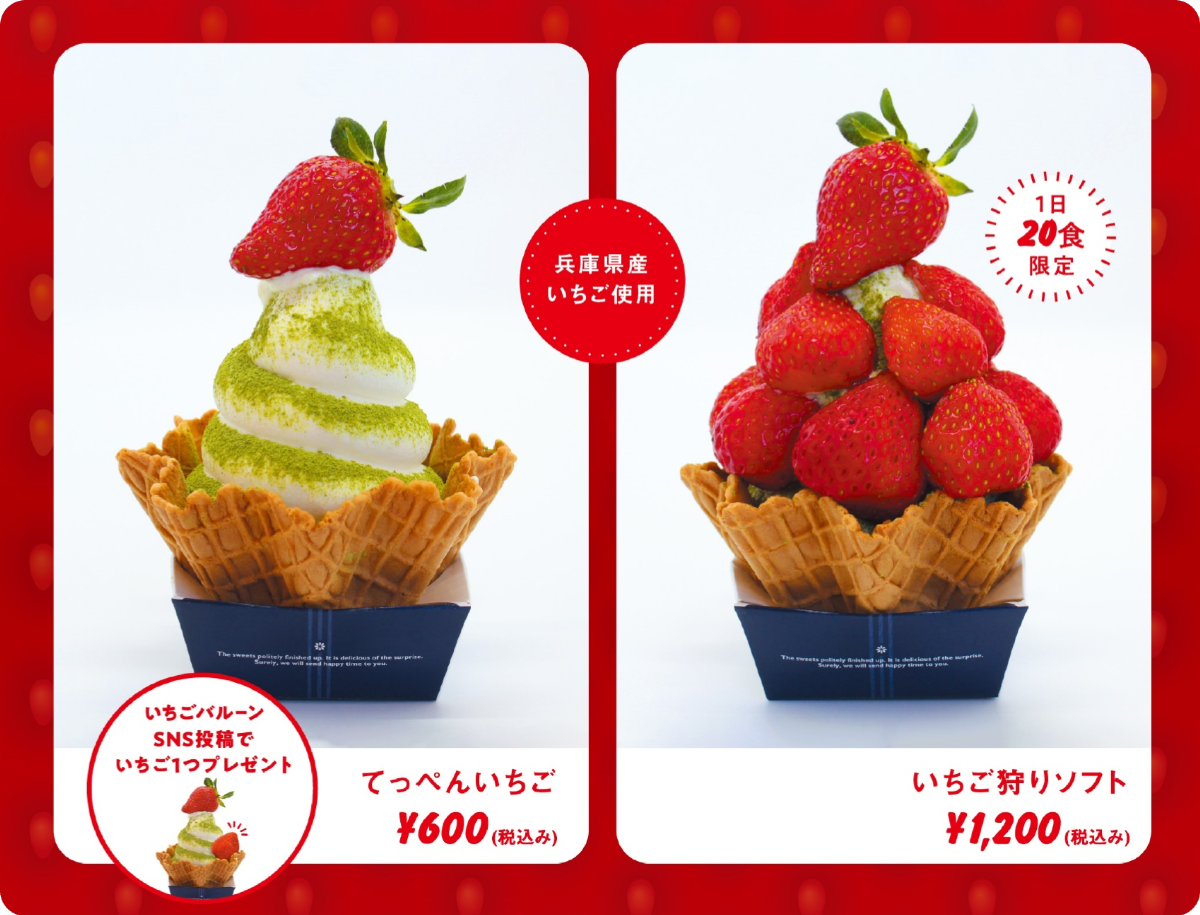 Top Strawberry ¥600
A dessert with a whole Hyogo Prefecture strawberry on top of a soft serve ice cream that looks like a lawn.
Cornflakes are spread under the soft serve ice cream, and the texture changes to create a dish that you won't get tired of. The carefully selected Uji matcha powder goes well with milk soft serve ice cream!
Strawberry picking software 1200 yen
Based on the "top strawberry", this special sweet is limited to 20 servings per day and uses plenty of Hyogo Prefecture strawberries. These sweets are perfect for sharing with family and friends, or as a little extravagance on the go.
 
For those who post photos and videos related to "Japan's largest strawberry picking" on SNS with a hashtag, we will add another strawberry topping to the strawberry sweets "Top Strawberry". present!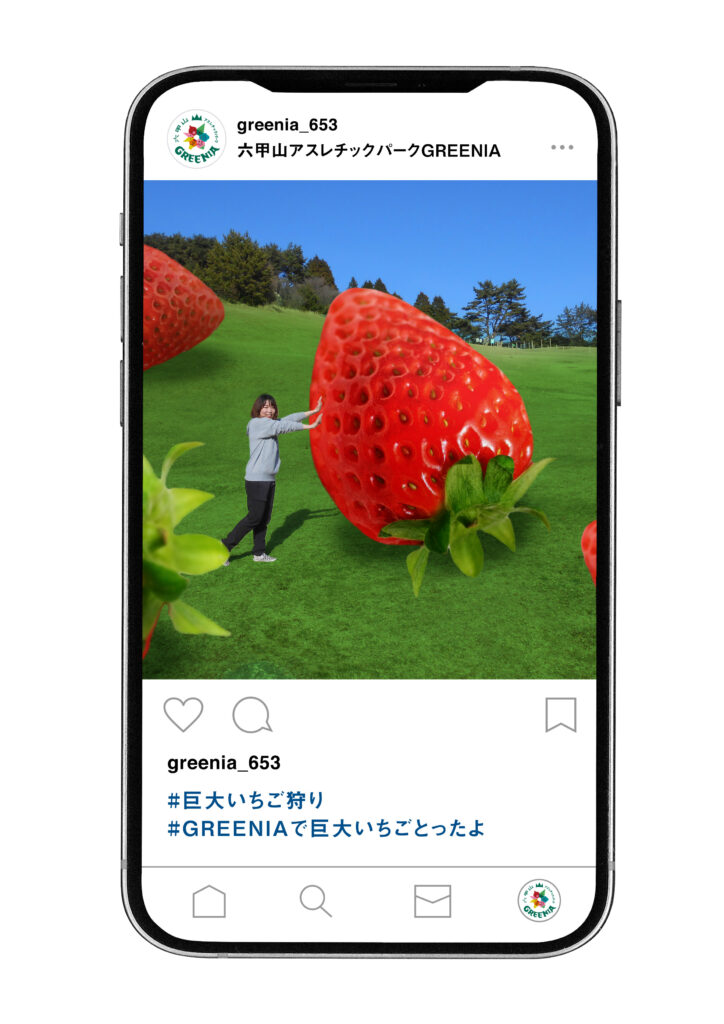 Post on various SNS (Instagram / Twitter / Facebook / TikTok) with either #Gigantic strawberry picking #GREENIA got a giant strawberry. If you show the posting screen to the staff when ordering "Top Strawberry" at the shop "Green Leaf", you will be eligible for a gift.
・The event/campaign may be canceled without notice depending on the deterioration of the strawberry balloons and the availability of strawberries.
・The weight of the strawberry balloon is about 15 kg. Please be sure to play with parents when children experience.
・Do not intentionally kick or damage the strawberry balloons.
・In the SNS posting campaign, presenting the SNS screen after purchasing the top strawberry is not eligible for the campaign.