Tap to enlarge

You can drag the map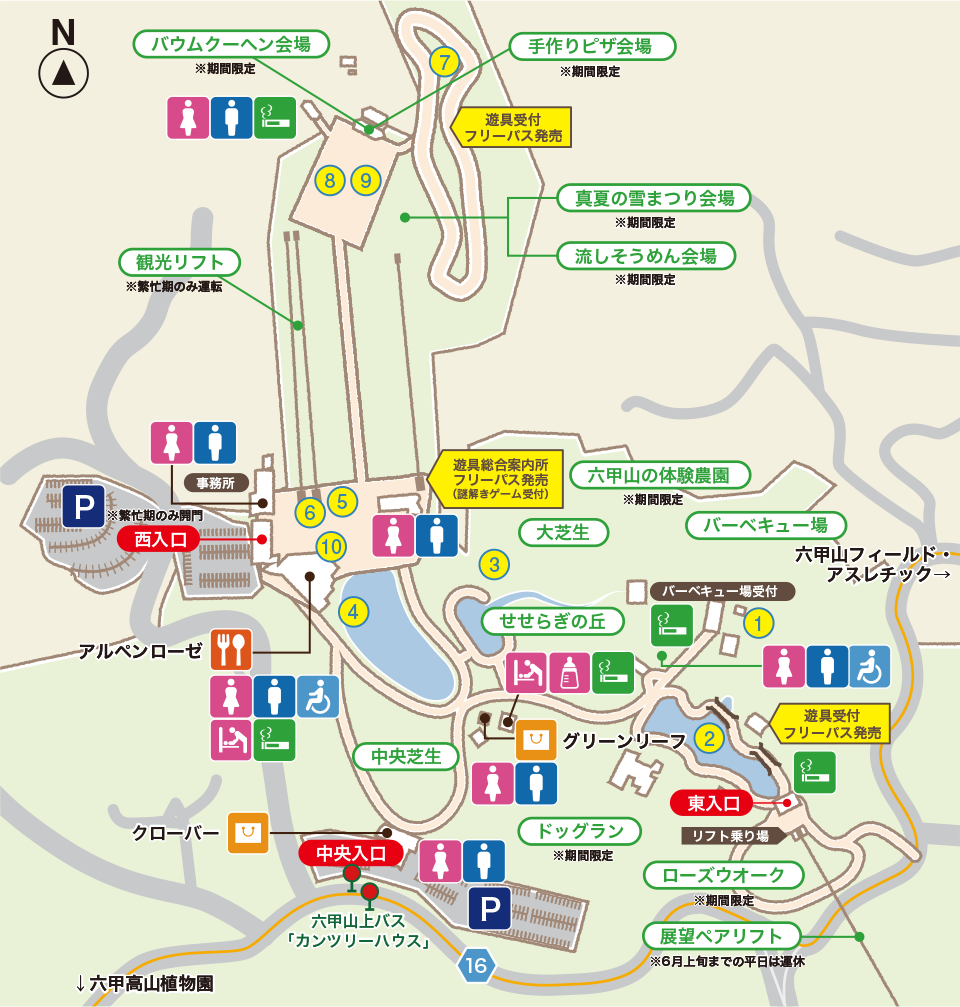 Women's toilet
Toilet for men
Wheelchair priority toilet
Parking Lot
The restaurant
gift
Baby room
Smoking area
Toilet with diaper changing bed
Playground information
① Miniature Golf

10:00-16:00 Closed 1 course 1,000 yen, 2 courses 1,500 yen *Some courses are open for a limited time *1

② fishing

[The trial period has ended. ] *2

③ Wanpaku Turf Sledding

Reception is closed from 10:00 to 16:30 700 yen per vehicle (15 minutes for one passenger)

④ Pedal Boats

Reception is closed from 10:00 to 16:30 700 yen per vehicle (10 minutes for two passengers)

⑤ trampoline

Reception is closed from 10:00 to 16:30 500 yen (10 minutes)

⑥ bouncy castle

Safe for small children

[Discontinued due to measures against new coronavirus infections. ]

⑦ Go Karts

Reception is closed from 10:00 to 16:30 700 yen per lap (two-seater) *Open only on Saturdays, Sundays, national holidays and summer holidays (7/23-8/23) *3

⑧ bubble balls

[Discontinued due to measures against new coronavirus infections. ]

※4

⑨ water roller

[Discontinued due to measures against new coronavirus infections. ] *5

⑩ kids electric cars

Ending from 10:00 to 16:30 200 yen each
注意事項
* Each playground equipment may be closed without notice due to rain, bad weather, inspection and maintenance, etc.
*Except during events, it is dangerous to bring in play equipment with wheels such as unicycles and tricycles as it is dangerous. Please refrain from sliding turf using sleds or corrugated cardboard except for Wanpaku Turf Sledding. Also, we do not allow you to bring in.
* Playground equipment may be closed early due to circumstances. Please note.
* Children under 3 years old will be charged when using play equipment.
*1) Due to construction work, only 2 of the 3 courses will be open. There are rental shoes. Please use the putter that you rent. Bringing putters is prohibited.
*2) Limited business from April 13th to May 11th. Please refrain from bringing in tools and food. Please note that you cannot take out the fish you caught.
* 3) The driver is limited to those with a height of 130 cm or more (If you are not satisfied, you must be accompanied by a guardian).
* 4) For ages 4 and up to elementary school students. However, you can use up to 150 cm tall.
* 5) Target age 4 years or older.
Spot information
Barbecue

Experience the outdoors easily and easily at Mt. Rokko near the city. Have a barbecue in the nature and have plenty of fun after you are full! ※ Reservation required

Scenic Pair Lift

It is a pair lift that connects Rokkosan Country House and Rokko Garden Terrace. Please enjoy a leisurely walk in the air. *It may be canceled depending on the weather. *Open only on weekends and holidays and during summer vacation (7/23-8/31) One way (one person) 200 yen

Rose walk

A rare rose garden where you can freely walk around the natural hills. Unlike ordinary formal gardens, it is a design that values harmony with nature.