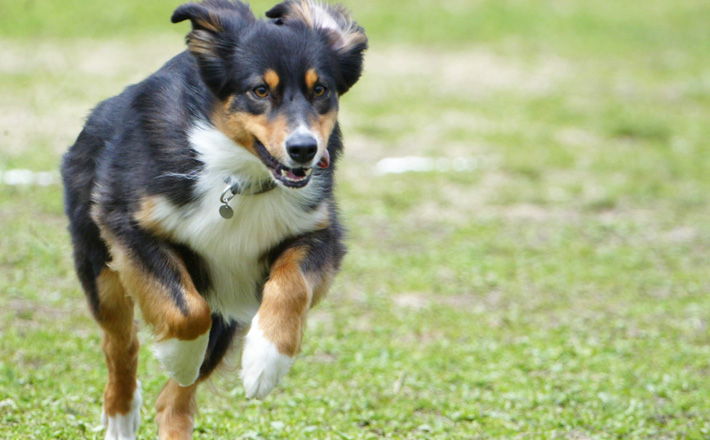 How about a holiday with a cute dog, taking a different walk and taking a nap slowly on the lawn in the spacious garden?
Enjoy with your dog! area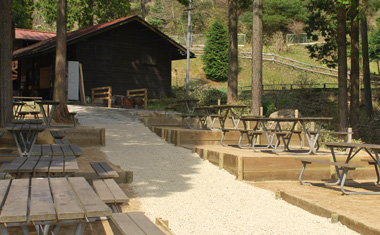 Barbecue
Let's enjoy barbecue together in the doggie area of the barbecue area in the park.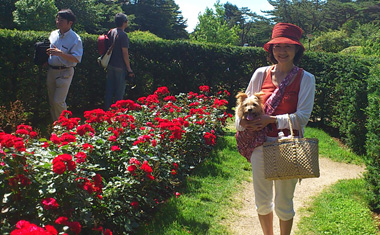 Rose small diameter "Rose Walk"
Take an elegant walk in the Rose Garden, which is a walk-type design that values harmony with nature.
To enter the Rose Walk, please put the dog in the cage or hold it and enter the park.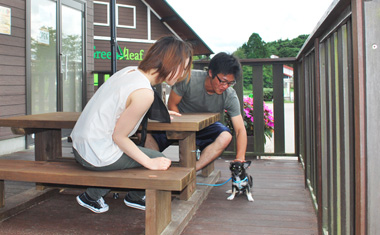 Dog terrace
Eat lunch on the Wood Deck Terrace, feel the breeze of Rokko ... Have a relaxing time with your dog.
Enjoy with your dog! An event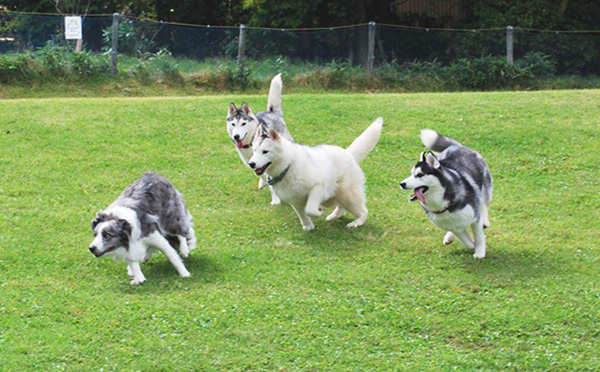 Dog Park
Open a part of the grass area in the park as a Dog Park! A natural lawn that is kind to dogs' feet, and there is a simple agility in the area, so stress is released!
event date

Saturday, Sunday and public holidays from Saturday, June 6 to Sunday, June 28
Saturday, Sunday and public holidays from September 5th (Sat) to November 3rd (Tue / holiday)
※ Rainy weather canceled
time

10:00~16:30
Price

One dog per 1,000 yen * Separate entrance fee required * Use of 3 or more dogs is a great deal! 800 yen per head
Dog Park can be used from 6 months old
Separate from the time of entering the park, when using the Dog Park run, it is necessary to fill in the prescribed consent form. Please observe the Terms of Use and follow the instructions of the staff.
<Operational cooperation> Knots, Japan Frisbee Dog Association Hyogo Branch
Recruitment of DOG CLUB members!
An annual pass for entering the dog is available to those who enter Rokkosan Country House with the dog. Dog Park is a great deal for members!
Application acceptance date

Dog Park run dates from April 18 (Sat) to November 3 (Tue/holiday) *Admission discount is valid from application date until November 23, 2020 (Mon/holiday). *Please contact the admission staff at the time of your visit.
How to apply

Dog Park park in Dates Dog Park Please apply at a private reception. Please come to the park after wearing the tag and rabies vaccination vote (within 1 year) on your dog. Enrollment is limited to those who can accept our pledges and disclaimers.
Admission fee

One dog for 1,000 yen (each dog will be registered)
Member benefits

① Discount on Dog Park usage fee 1,000 yen → 500 yen
(2) Discount on admission 100 yen discount for adults, 50 yen discount for children, free for dogs * One member card can discount up to 4 people. Cannot be used in combination with other discounts or benefits.
③ No need to fill in the pledge required when entering the park
④ Weekday Dog Park charter!
You can use it by renting it on weekdays by presenting your DOG CLUB membership card. 3 hours: 30,000 yen, 1 day: 70,000 yen * Please contact us by phone for details.
(5) Presenting the DOG CLUB CARD (2020) of the Rokkosan Country House a special treatment for use at Hankyu Hello Dog
・Nishimiya Hankyu Store benefits: Free use of Hankyu Hello Dog Dog Park
・ Sorio Takarazuka store benefits: Temporary storage for 1 hour free of charge
⑥ Special offer for use at Arima Grand Hotel DOG UP VILLA
・ Free use of the foot bath "Yu no Niwa" exclusively for your dog and free use of the dog lounge by staying or temporarily keeping your dog
(Note) Please bring a mixed vaccination certificate (within 1 year) with Rokkosan Country House DOG CLUB CARD when using Hankyu Hello Dog and Arima Grand Hotel DOG UP VILLA.
(Caution) The above 1) to 6) benefits are only available if you are accompanied by a registered dog.
注意事項
*Please be sure to attach a lead to your dog except in the Dog Park area.

* Regarding the requirements stipulated by law, such as vaccination, wearing a voucher and rabies vaccination vote (within 1 year), it is the responsibility of the owner to respond appropriately.

For more information Homepage of Ministry of Health, Labor and Welfare Please confirm.
* If the park is crowded or in some areas, it may be necessary to shorten the lead so as not to disturb others.
* Owners are responsible for any accidents or troubles in the park caused by the accompanying dog, and they are requested to resolve the problems through discussions between the parties. We do not take any responsibility.
* Please handle trash and dung etc. responsibly and follow the owner's manners and rules.
※ We may refuse dogs who are aggressive when they see people or other dogs. In addition, owners who do not follow the staff's precautions may be asked to leave the park. Please do not disturb other visitors.
* Other than that, please fill out a pledge that describes what you want to promise when you enter the park. You can download the pledge from the following. Please fill in the necessary information and bring it to the admission counter.