Rokko Garden Terrace, one of the most scenic spots in Japan, extends from the Akashi Kaikyo to the Osaka Plain and Kansai International Airport
Enjoy a panoramic view and a $10 million night view night view at night. There are various view spots in the area. You can enjoy different expressions depending on the viewing angle and time.

Rokko-Shidare Observatory
A new famous spot on Mt. Rokko. It is a new style observatory where you can experience the seasonal nature of Mt. Rokko.
We also hold a light event that uses LED lighting to express the four seasons of Mt. Rokko. Please enjoy with the night view.

Lookout Tower
It was made in the image of an old European building. Climb the stairs to the top of the 11m tower.
There are no obstructions around, so you can enjoy a panoramic view. The widest view on Mt. Rokko is worth a visit.

Lookout Terrace
The scenery of the Rokko mountains, the Seto Inland Sea, and the city area is breathtakingly beautiful.
From spring to autumn, it is recommended that you sit on the terraced terrace with soft ice cream and spend a leisurely time.

Lookout Deck
The view spot closest to the parking lot of the sightseeing bus. From this place where you can see the Osaka area mainly, you can enjoy a deep landscape.
If you look into the telescope, you can see the scenery of the city near by. You can even see the audience cheering at the Koshien Stadium! I can hear a loud cheer.
The traditional play `` Kawarake Throw '' is here!
Fly the unglazed earthenware plate "Karawake" as far as possible. It's an old game with a wish to avoid evil. "Karawake" is Rokko Souvenir Shop You can purchase at.
(*This is a shop along the Lookout Deck.)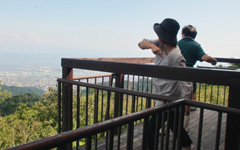 Kawara Fee: 1 set
(5 pieces) 100 yen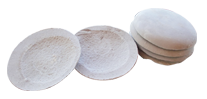 Enjoy a beautiful dinner with a $10 million night view. While looking at the beautiful night view with jewels scattered,
Would you like to spend your special dinner time?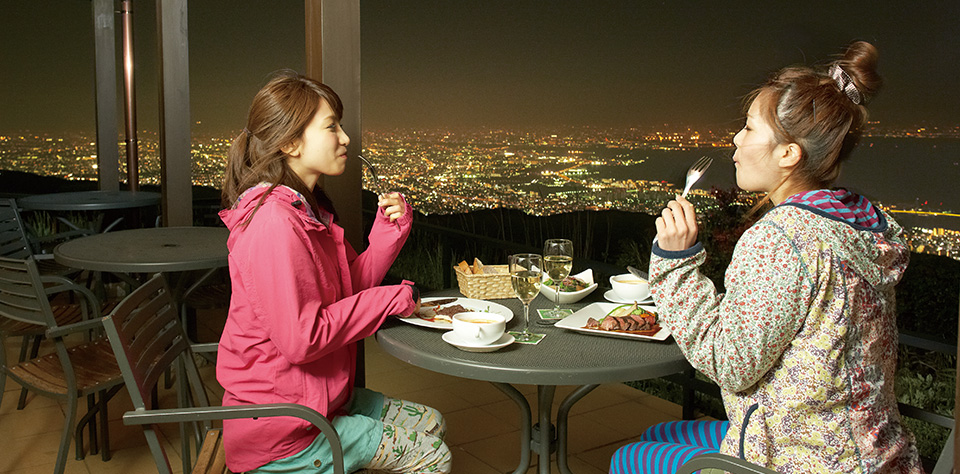 Granite Café
Relaxing cafe with spectacular views and modern interior. With creative dishes based on Italian and French
We are proud of our handmade sweets. At dinner time (17: 00-), you can enjoy a romantic time while watching the night view.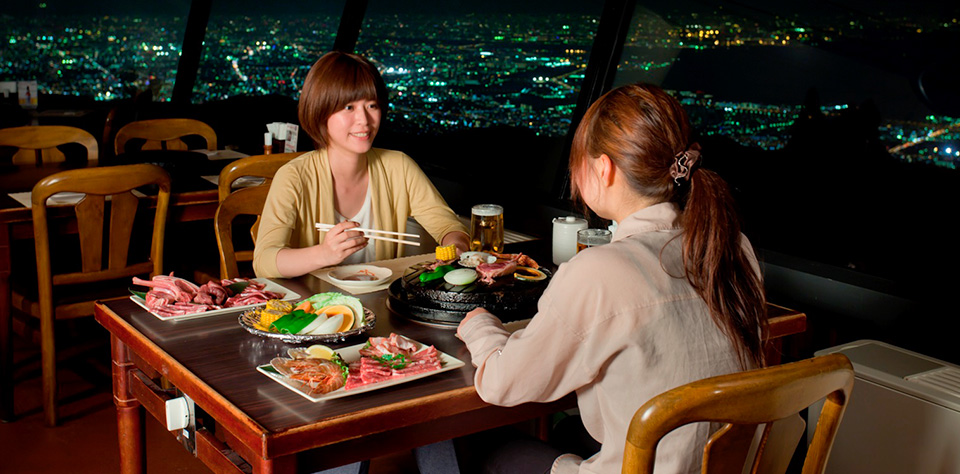 Rokkosan Genghis Khan Palace
Rokkosan's specialty Genghis Khan restaurant. You can have a good time together while grilling meat, seafood and vegetables on an iron plate.
How about working with your family and friends, as well as with colleagues in your company or club?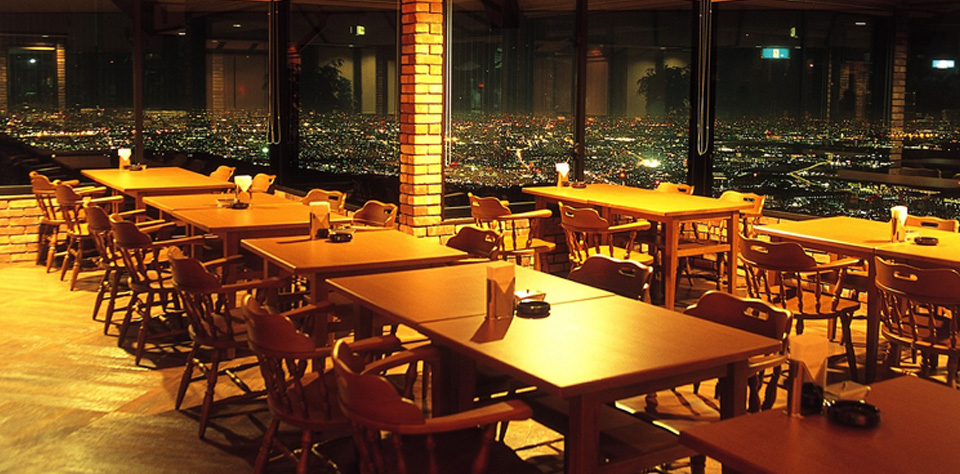 Rokko View Palace
It is a semi-self-styled unpretentious restaurant, so it is recommended for families. There is a casual Western menu such as hashed beef, hamburger steak, and beef stew. Please spend a relaxing time below the $10 million night view.