Aiming for an art walk at Rokko Meets Art, which is getting more and more exciting both in autumn and on weekdays, this campaign is underway!
Weekdays only! Let's stay home after meet art!
Instant soup gift campaign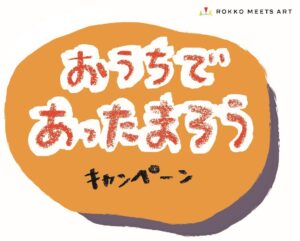 【Implementation period】
All weekdays from 11/1 to 11/22
【subject】
Those who tour Rokko Meets Art on the day of the campaign and those who follow the official SNS of Rokko Meets Art
Limited to the first 50 people each day. Please understand if we reach the capacity.
【way to participate】
(1) On any day during the above implementation period, if you have a Rokko Meets Art Art Walk Viewing Passport
Please ask the general information staff.
This applies to those who have a new passport with the admission stamp of the day of the visit or who are planning to use it on the day of the visit. Passports with all entry columns stamped before the target date are not eligible.
② Show the staff the follow screen of Rokko Meets Art Art Walk official SNS (either Twitter or Instagram).
③ One pack of "Knorr" instant soup (provided by Ajinomoto Co., Ltd.) will be given to each person!
After returning from Meets Art, enjoy a relaxing time at home♪
☆ You can receive soup only once a day. However, if you use multiple passports, you can receive it more than once (if there are less than 50 people).
Example) Visit 11/2, enter 2 venues, receive soup → Visit again on 11/8, enter the remaining 3 venues, present your passport again, and receive soup