Hikari no Mori-Night Art Walk-
So far "The Night Museum-Night Art Walk-" This project, in which you enjoyed the works of the night for a limited time, will be held again as "Hikari no Mori-Night Art Walk-".
This year, the start will be earlier than usual, and it will be held from September!

[Date and time]
Saturdays, Sundays, and holidays between September 23 (Friday / holiday) and November 23 (Wednesday / holiday), 2022
17:00 to 20:00 each day
【venue】
Rokko Morinone Museum, Rokko Alpine Botanical Garden
* On each day, you will be able to switch between the regular exhibition until 17:00 and the exhibition from 17:00.
[Participating artists] * As of March 18, 2022. We will keep you informed of new artists who have decided to participate.
Kota Takahashi
Born and resident in Kyoto Prefecture in 1970
1995 Completed the Department of Sculpture, Graduate School of Fine Arts, Kyoto City University of Arts
Public projections, installations and performances with light and video
We are active in a wide range of domestic and overseas. Kyoto City Kyocera Museum, Tokyo Station 100th Anniversary
Lighting projects for buildings such as the Towada Art Center and Towada Art Center are die
Create a work of light that is namic and sculptural. "Dream seeds" and "Hikari" made with many people
He is also involved in many large-scale participatory art projects such as "Nomi" and "Hikari no Hanabata".
【price】
We will sell "Viewing Passport with Night Pass". Please see the Viewing Passport page for details.
You can also see it at the "Night Pass" sold at the counter during the exhibition period (adults 1,600 yen, children 800 yen, valid only for the works of "Hikari no Mori-Night Art Walk-").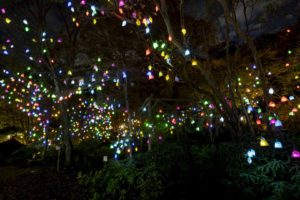 Works exhibited in 2021 (Rokko Morinone Museum Kota Takahashi << Hikari no Mi in SIKI Garden >>)
<< About the work >>
Participatory light work by Kota Takahashi, who was well received last year at the ROKKO Forest Sound Museum "Hikari no Mi" of
Will be exhibited.
This work is a light work made by putting a small LED light in a fruit bag with a smile on it and inflating it.
Attaches about 2,500 "Hikari no Mi" to trees and decorates them. Night view by each person's participation
Is an exhibition work that creates a lot of smiles and healing scenery. Music also plays at the venue, and the sky surrounded by light and sound
Make a gap.
Details of other works and events will be posted on this page as soon as they are decided. Official SNS We will inform you by such.