We will announce the results of the "Audience Award" decided by the votes of the visitors!
Thank you for your participation!
As a result of the tally, the top three groups were the following artists. congratulations!
1st Prize (Supplementary Prize: 500,000 yen) Nobuharu Asano
Work "Forest between the gaps" Rokko Alpine Botanical Garden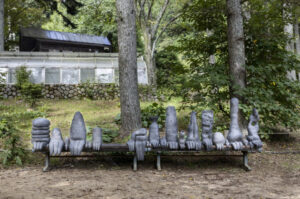 《Reason for voting》
・Trickster, Forest Yokai, I felt strange when I saw them, but when I sat down and lined them up, I felt familiar and cute, they were forest fairies.
・Because it was interesting that the audience was integrated into the work, in which there was a gap for one person in the chairs where the strange creatures were lined up, and the work was completed by sitting in the gap. When I actually tried it, I felt like I was part of the work, and it was fun.
What are the tricksters doing? What are you thinking? Because it was fun to see while imagining.
…etc.
2nd place (Supplementary prize: 200,000 yen prize) Shinji Ohmaki
Work Sora no Ana Chapel of the Wind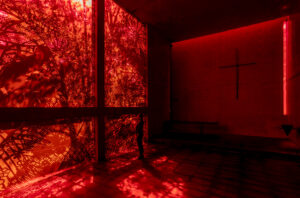 《Reason for voting》
・Because it was a work that made me think about the most various things. The artificially ringing bells of the bright red church gave me a somewhat frightening feeling, and at the same time, I felt the heartbeat of a creature quietly breathing in the nature of Mt. Rokko. It was very interesting to see how the artist's hand made the time of the church move again, and how the sculptures made of concrete were beating along with nature.
It's the first time I've heard the bell.
・In addition to making use of Tadao Ando's architecture, the work also has power. There was something that approached me with the sound of the bell and the sight.
…etc.
3rd place (Supplementary prize: Prize money of 100,000 yen provided by Hyogo Prefectural Building Lots and Buildings Transaction Business Association)
Nishikawa Shoko
Work "Let's go at Peace" Rokko Garden Terrace Area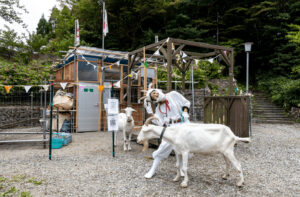 《Reason for voting》
・Surprise that there is a goat at Rokko Meet Art! The author's spirit of doing something unprecedented and the characters that attract the audience are wonderful.
・Cute, Fun, and Interesting I was able to see both the first and second periods, and I was fascinated by the fact that the way I interacted with the works changed during the exhibition. The viewers also want to come! I wonder what's next! It was a wonderful work that seems to be! It was fun to be directly involved with the author!
・It was interesting because it was a new attempt. Cute Nishikawa started to look like a goat, and I felt a little scared.
…etc.