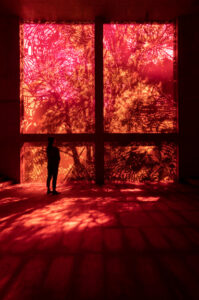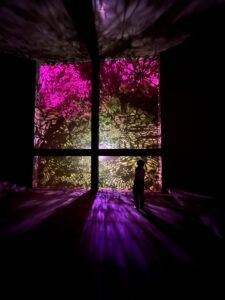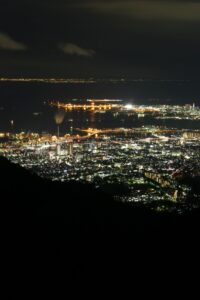 安藤忠雄設計の教会三部作の1つ「風の教会」に展示の大巻伸嗣作品《そらのあな》。
日中は赤い光に包まれた教会内の情景が印象的ですが、夕方から夜にかけて展示空間の色彩が変化してゆきます。時の経過により変化してゆく作品の色調を鑑賞いただくためのナイトツアーです。総合ディレクター兼キュレーター 高見澤清隆の解説付きでご鑑賞ください。
また、帰路は約25分間のナイトハイクでスタッフが六甲ケーブル山上駅までご案内します。夜の六甲山や1000万ドルの夜景を併せてお楽しみください。
大巻伸嗣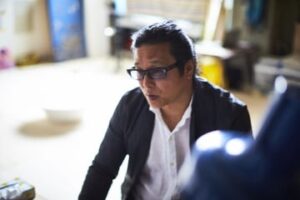 1971 Lives in Gifu and Kanagawa prefectures
1997 Graduated from Graduate School of Fine Arts, Tokyo University of the Arts, Department of Sculpture
Developing production activities with the theme of "existence".
Exploring the relationship between the external world such as the environment and others, the internal world such as memory and consciousness, and the body, which is the boundary between them, physical time to approach the vague and elusive "existence" that sways between the three. Attempt to create space.
His major solo exhibitions include "Where the Gaze" (Chihiro Art Museum, 2018), "The Noise of Existence" (Kando Art Museum, 2020), "MOMENT AND ETERNITY" (Third Floor-Hermes/Singapore, 2012), Proof" (Hakone Open-Air Museum, 2012), "ECHOES-INFINITY" (Shiseido Gallery, 2005), etc. Participated in many international exhibitions such as Echigo-Tsumari Art Triennale and Yokohama Triennale. In recent years, "freeplus×HEBE×ShinjiOhmaki" (Kougyo Taikoo Hui/Shanghai, 2019), Yokohama Dance Collection "Futuristic Space" (Yokohama Red Brick Warehouse, 2019), "Louis Vuitton 2016-17 FW PARIS MEN'S COLLECTION" (André Citroën Park / Paris, 2016) and many other performance works.
【イベント概要】
開催日…10/1(土)、10/9(日)、10/23(日)、11/6(日)、11/20(日)、11/23(水・祝)終了しました。←大好評につき、開催日を追加いたしました。
開催時間…〈10月〉17:30~18:40 終了しました〈11月〉17:00~18:10
料金…お1人500円(税込、イベント保険加入費込み)
※本企画は六甲ミーツ・アート芸術散歩2022鑑賞パスポートもしくはナイトパス付鑑賞パスポートをお持ちの方限定のイベントです。受付にてパスポートの提示をお願いいたします。
《行程》
17:00 集合@風の教会エリア受付前(16:45~ 受付開始)
*バスをご利用の場合、集合場所へは以下の時刻の六甲山上バス(風の教会回り便)にご乗車ください。
〈上り〉六甲ケーブル山上駅16:25発→風の教会16:29着
〈下り〉六甲ガーデンテラス16:40発→風の教会着16:46着
時刻表はこちら
*We recommend that you come to Chapel of the Wind area about an hour earlier than the meeting time and take a look at the surrounding works until the time. (A Viewing Passport is required to visit paid venues.)
17:00-17:30 "Sora no Ana" viewing (with commentary)
17:40 Night hike start *Participants by car will be dissolved here.
☆You can enjoy the night view from the Chapel of the Wind area parking lot and Tenran Observatory the way.
18:05 Arrive at Rokko Cable Car Sanjo Station
18:10 dissolution
帰宅される場合は18:20発の六甲ケーブルに乗車(六甲ケーブル運休中の場合は18:30発の代替バスに乗車)。
引き続き「ひかりの森~夜の芸術散歩~」(会場:ROKKO森の音ミュージアム、六甲高山植物園)を鑑賞される場合は、山上駅より18:15発の六甲山上バスに乗車、「ミュージアム前」もしくは「高山植物園」で降車下さい。
【way to participate】
Advance reservations are required. Please select the desired date from this reservation form and make a reservation.
*Capacity 15 people (Minimum number of participants 4 people)
*Please make a reservation by 24:00 the day before the event date.
【備考】
※行程に約25分程度の夜道でのハイキングを含みます。また、秋から冬にかけての六甲山上は麓より約5~10℃程度気温が低くなります。歩きやすい靴とあたたかい服装でご参加ください。
※雨天及び、最少催行人員に満たず開催中止となる場合は、前日の16:00に公式HP・SNSにてお知らせします。