-For Visitors-
【2021/2/28更新】入館予約制について
 
緊急事態宣言の解除に伴い、3月1日(月)より、ご予約なしでお越しいただけます。
すでにご予約をいただいているお客様に関しましては、万一、入館規制を行う際には優先的にご案内をさせていただきますのでご安心ください。
新型コロナウイルスの感染拡大状況によっては、再度、予約制を取らせていただく場合がございますので、あらかじめご了承ください。最新の情報は、ホームページまたはSNSにてお知らせします。
※オルゴール組立体験につきましては、定員数に限りがありますので、引き続き予約制とさせていただきます。
 詳しくは下記のご案内をご覧ください。
※団体(15名様以上)でのご利用をご検討のお客様はお電話にてお問合せください。
※安心してご来館いただけるよう感染症対策を行っております。当館の対策については下記のご案内をご確認ください。
新型コロナウイルス感染拡大防止のため、ご協力いただけますようお願いいたします。
---
[Reservation required] Musical Box Workshop (capacity: 12 people each time) ≫ WEB reservation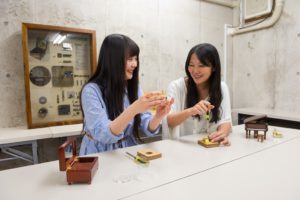 * Early reservations are recommended during weekends, holidays and summer vacation.
Please cooperate with measures to reduce congestion.
* Assembly experience About the songs of the advanced course
The lineup of songs will change depending on the situation. Regarding the advanced course, some songs are currently out of stock, so please select the song you want from here and contact us in advance.
---
Measures to prevent the spread of new coronavirus infection
At our facility, the following measures will be taken as part of measures to prevent the spread of new coronavirus infection.
[Request to customers]
・ Registration of emergency contact information when a cluster occurs
Customers who enter the museum can register for the "Hyogo Prefecture New Corona Tracking System" at the reception.
And please install the contact confirmation application COCOA.
If you do not have a smartphone, please write the emergency contact information in case of a cluster.
Please register at the time of admission.
・ Wearing a mask
Please wear a mask inside the building. If you do not have it, please purchase it at the entrance.
・ Cooperation of temperature measurement
At paid facilities, temperature is measured at the entrance. We do not allow people above 37.5 ° C to enter.
Also, please refrain from using this service if you have a cold-like symptom or if you are in poor physical condition.
・ Customer's own infection prevention
Customers should refrain from washing their hands, gargling, coughing etiquette, and talking loudly with each other.
Please prevent infection. Please also use the disinfectants installed in various places.
・ Ensuring social distance
Please keep a distance of 1m or more when lining up. Admission to facilities, stores, etc. may be restricted during times of congestion
There is.
[Infection prevention measures for facilities]
・Installing antiseptic solution in various places in the facility
・Regular ventilation by opening the doors and windows of stores and rest areas
・Regular wiping and disinfection of common areas
・Thinning out seats at restaurants and the Rokko International Musical Box Museum prevent crowding
・Installing vinyl sheets at counters such as cash registers to prevent splash infection
[Employee infection prevention measures]
・Wearing a mask or face shield, washing hands, gargle, and thoroughly disinfecting
・Cash delivery on the tray when handling cashiers (gloves may be worn)
・Temperature measurement and physical condition check when coming to work
For details, please visit our website (https://www.rokkosan.com)Please confirm.
*Infection prevention measures and business contents may be changed depending on the future situation.