-For Visitors-
Reservation is required for participation in the musical box concert, musical box theater, and Musical Box Workshop, so please make a reservation in advance.

※土日祝は、混雑防止の為、オルゴールコンサート、オルゴールシアター、オルゴール組立体験のご予約のないお客様は、建物内にお入りいただく事ができませんので、ショップ、館内展示の見学をご利用いただけません。
特に午後からは満席のお時間が続く傾向にあります為、当日予約ができない場合がございます。WEBまたは電話にてお早目にご予約をお願いします。
※ミュージアムガーデン中庭に展示中の「六甲ミーツ・アート 芸術散歩2020」No.⑰~⑲の作品は入館チケットをお持ちのお客様は、ご予約なしでも鑑賞できます。
※団体(15名様以上)でのご利用をご検討のお客様はお電話にてお問合せください。
We ask for your cooperation in preventing the spread of the new coronavirus infection.
---
1.オルゴールコンサート・オルゴールシアター予約 (定員 各回40名)
The hotel hosts regular concerts and musical box theaters every day.
Reservations can be made on the website or by phone (078-891-1284).
■

レギュラーコンサート(~11/23、12/26~)
≫WEB予約(9/11~)

※展示中のムットーニの作品は撮影いただけません。また、本特別展の開催期間中は、一部の展示物を除き、
コンサート展示室内の写真撮影をご遠慮いただいております。

*10/05~, 10:30~, 11:00~ held on Friday, September 18th
musical box concert and musical box theater
It will be reserved for use in the event of rain due to the use of group customers.
We apologize for the inconvenience, and thank you for your understanding.
■

Museum concert "Christmas to enjoy with musical box" (November 24 to December 25)
≫ WEB reservation
■

Planned exhibition "Kinetoscope appreciation experience" (12/1-12/13)
≫ WEB reservation
---
2. Musical Box Workshop (capacity 12 people each time) ≫ WEB reservation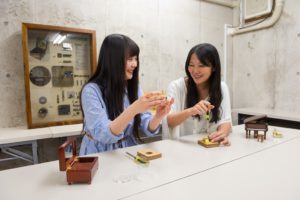 * Early reservations are recommended during weekends, holidays and summer vacation.
Please cooperate with measures to reduce congestion.
※組立体験 上級コースの曲目について
曲目のラインナップは状況によって変わります。上級コースに関しましては、現在、欠品中の曲目もございますので、こちらからご希望の曲をお選びの上、お手数ですが事前にお問い合わせください。
---
3. Measures to prevent the spread of new coronavirus infectious diseases
At our facility, the following measures will be taken as part of measures to prevent the spread of new coronavirus infection.
[Request to customers]
・Wearing a mask
Please wear a mask at paid facilities. If you do not have it, please purchase at the entrance.
・Cooperation of temperature measurement (paid facilities only)
At paid facilities, temperature is measured at the entrance. Persons above 37.5°C are not allowed to enter.
Also, if you have a cold-like symptom or are unwell, please refrain from using this service.
・Customer's own infection prevention
Do not wash your hands, gargle, cough etiquette, and avoid loud conversations between customers.
Please prevent infection. Please use the antiseptic solution installed in each place.
・Securing social distance
Please line up keeping a distance of 1m or more. When crowded, there may be restrictions on entrance to facilities, stores, etc.
There is.
・Please refrain from using in groups (15 people or more).
・Customers admitted to the "Hyogo Prefecture New Corona Tracking System" at the reception,
Also, please install the contact confirmation application COCOA.
If you do not have a smartphone, please write in writing the emergency contact information when a cluster occurs.
Please register at the time of admission.
[Infection prevention measures for facilities]
・Installing antiseptic solution in various places in the facility
・Regular ventilation by opening the doors and windows of stores and rest areas
・Regular wiping and disinfection of common areas
・Thinning out seats at restaurants and the Rokko International Musical Box Museum prevent crowding
・Installing vinyl sheets at counters such as cash registers to prevent splash infection
[Employee infection prevention measures]
・Wearing a mask or face shield, washing hands, gargle, and thoroughly disinfecting
・Cash delivery on the tray when handling cashiers (gloves may be worn)
・Temperature measurement and physical condition check when coming to work
For details, please visit our website (https://www.rokkosan.com)Please confirm.
*Infection prevention measures and business contents may be changed depending on the future situation.