Information on annual passport
I want to enjoy the Rokko International Musical Box Museum, where various exhibitions and events are held throughout the four seasons! This is the "annual passport" recommended for those
Enjoy the Rokko International Musical Box Museum with an annual passport that will be free to enter for one year.
* Due to temporary closure, those who have a passport for the following period will have their validity period extended.
[Target] Annual passport from March 3, 2020 to May 29, 2021
[Extension period] 3 months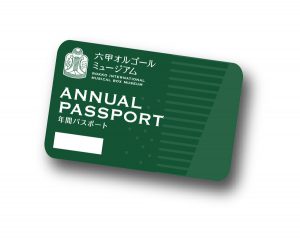 [Fee] Adults (junior high school students and above) 3,150 yen, Children (4 years old to elementary school students) 1,590 yen
[Release location] Reception desk at Rokko International Musical Box Museum
[Annual passport member benefits]
◎You can enter as many times as you like for one year, including the day you purchase your pass!
further
1) Request for performance songs (one per visit) *1
2) Use of museum shop 5% OFF *2
3) Use of Strauss Café 10% off *3
4) Use of assembly experience 200 yen off
5) Advance reservations for special events are possible
*Please confirm the exclusion date and excluded products at the time of enrollment.
*1 Depending on the condition of the instrument, we may not be able to meet your request.
*2 Only when the purchase amount of cash is ¥3,000 or more.
(Some products are not eligible)
*3 Not available during peak periods.
Precautions
● Annual passport cannot be reissued. (Including the case of theft and loss)
●Not available for special events such as night concerts.
●If there is no presentation, the admission will be at the normal rate. (Including the case where you forget your annual passport)
● This ticket cannot be loaned, changed in name, refunded, transferred to another ticket type, or redeemed for cash.
●A separate parking fee is required when visiting the building by car on a parking day.
●When using the service, we may ask you to show your driver's license to verify your identity.
● Natural disasters (including but not limited to fire, earthquake, storm and flood damage, lightning strike, pollution, salt damage, etc.), epidemics of infectious diseases and epidemics, wars, riots, civil wars, and other reasons that cannot be attributed to the museum's blame. Please note that there is no extension measure for the temporary closing period.
●We may ask you to return your passport or leave the facility if you find that there is any misconduct or annoyance to other customers, or if you do not cooperate with our request.