Weekday limited raclette cheese lunch and admission set
Now accepting reservations! !!
Make a reservation by phone or WEB! Great value with admission ticket!
Limited to 10 meals a day, reservation system by the previous business day
[Raclette cheese lunch]
You can enjoy rye bread, mortadella, vegetables etc. with mellow melted raclette cheese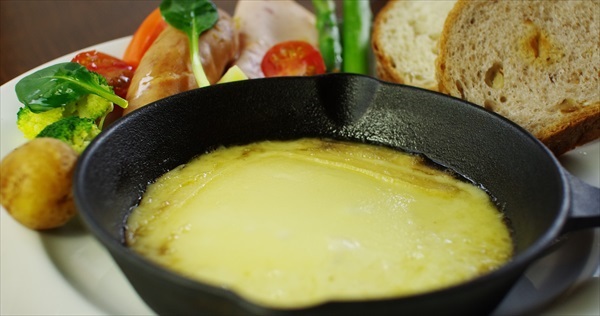 ---
What is Raclette?
Raclette is a French word meaning "shave" and "scratch".
The name comes from warming the cross section of cheese, shaving the melted portion with a knife, etc.
Raclette cheese is mellow and full-bodied and can be heated to add more flavor.
---
【 event date 】
Weekdays only *There are some excluded days.
Details such as target date Booking form Please refer to the.
Book on the day 30 days ago It is possible from
【business hours】
11:00 to 16:30 (Last order: 16:00)
[Fee]
Adult (more than junior high school student) 2,630 yen
Child (4 years old-elementary school student) 2,210 yen
* Including meals and admission.
*Regular price Raclette cheese lunch 1,880 yen
Admission fee Adult 1,050 yen, Child 530 yen
→Advance reservation plan is 300 yen for adults and 200 yen for children than usual!
*If you are visiting the Rokko Alpine Botanical Garden (700 yen for adults, 350 yen for children),
From "Raclette cheese lunch and admission set",
Adults 1,300 yen, children 650 yen
Common ticket for Rokko International Musical Box Museum + Rokko Alpine Botanical Garden
Raclette Cheese Lunch 1,880 yen
Those who purchase will be cheaper.
【reservation】
We accept reservations via the Internet or telephone.
TEL: 078-891-1284
*We do not accept reservations for cafes other than this plan. Please note.