What is Shidare Museum?
Works by various artists will be exhibited on the stage of the observatory with a maximum altitude of 888m, Rokuko Shidare! See, hear, touch, and take pictures of art works! It is an event that both adults and children can enjoy.
At night, you can enjoy the night view of 10 million dollars with illumination. Please enjoy the world of art that spreads out on the mountain.
About
ムービー
20周年TVCM公開中!
放映局:毎日放送・読売テレビ・テレビ大阪(関西のみ)
放映期間:4/18〜
振り付け動画はこちら
Movie
Event overview
Holding period

March 18, 2023 - January 8, 2024

business hours

10:00-21:00
*From November 24th to January 8th, open from 10:00 to 18:00 on weekdays (reception closes at 17:30) and from 10:00 to 20:00 on weekends (reception closes at 19:30).

venue

Rokko-Shidare Observatory

admission fee

Adults (middle school students and above) 1,000 yen / Children (4 years old to elementary school students) 500 yen
*Children 0 to 3 years old are free.
rock weeping
art observatory
The official name of the Rokko Shidare, the venue for the Weeping Museum, is the "Rokko-Shidare Observatory".
Completed in 2010, designed by architect Hiroshi Sambuichi. It was designed to unravel the mechanism of natural circulation and the history of Mt. Rokko, and to experience the nature of Mt. Rokko itself as art. Please enjoy the observatory made of hinoki cypress from Yoshino, Nara Prefecture, along with art works.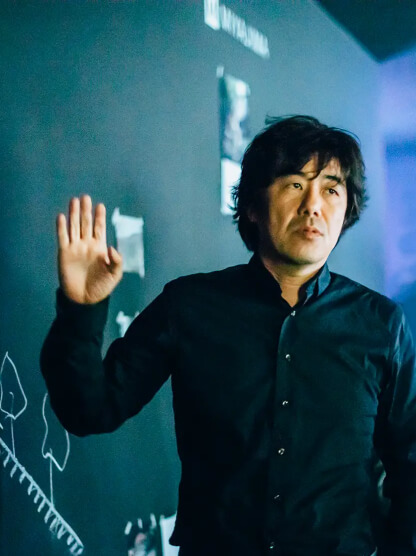 Nature Experience Observatory Rokko Shidare Designer
Shunichi Hiroshi
An architect based in Hiroshima. With a consistent theme of how architecture can become a part of the earth, he advocates "details of the earth." His representative work, Inujima Seirensho Art Museum, won the 2010 Japan Architecture Award and the 2011 Architectural Institute of Japan Award.
ROKKO
Shidare
ROKKO
Shidare
Introduction of exhibited works
Artist 03

Yoshihiro Sagawa

Artist 04

Sugiyama Brothers

Artist 05

Mizuguchi Gucci

Artist 09

Hirotaka Shirotsubaki

Artist 11

Masayuki Fushimi
Look, listen, touch!
Experience art!

Shidare Museum

Artist01

Works on display

❶

Meadow Garden of Light and Wind

日本の原風景である、花咲く草原をイメージしたガーデン。光を受けるグラス類、風にそよぐ野草など、六甲山に訪れた人たちに刻々と変化する季節の情景を感じてもらいたい。2016年から多年草と球根類を中心に植栽、肥料や農薬の使用を止め、植物が成熟してからは水やりも自然に任せている。

❷

(場外作品)コッテージガーデン

英国の田舎の邸宅にあるような小さな庭のことです。ハーブや花木など色々な草花と建物が調和しており、落ち着いた空間でゆったりと過ごしていただけます。

場所:六甲ガーデンテラス

❸

(場外作品)SIKIガーデン

六甲山の四季折々の自然の表情を楽しめるナチュラルガーデン。ガーデン内では「音のベンチ」や、ツリーハウス、ハンモックも設置。居心地の良い特別な空間をお楽しみいただけます。
場所:ROKKO森の音ミュージアム

Exhibition place

Look, listen, touch!
Experience art!

Shidare Museum

Artist03

Contemporary artistTakahiroSagawa

Incorporating characters that pop out into the distance, which are found in manga expressions, and presenting phenomena related to emotions and communication through various expressions such as three-dimensional modeling and performances. In 2014, he won the Rokko Meets Art Grand Prix semi-grand prix for "Breast Earthenware".

Works on display

❶

あっというまスライダー

The phrase "life is fleeting". It is an art slider that you can literally experience this. Carrying the vehicle called life in your own hands, you climb up the mountain road and slide down on it. What do you think of the instant experience?

(雨天・荒天時は展示中止)

❷

インスタントパワースポット 縁むすび

A power spot that can also be a destination for travel. There are a wide variety of places that come to mind when you hear of power spots, such as buildings spread by word of mouth from nature, shrines and temples. It is an attempt to develop such a power spot as a new art work.

※展示開始は3月25日(土)を予定しております。

❸

#ROKKO

Works exhibited at Rokko Meets Art Art Walk 2018. You can't help but point your camera at the visual of the # (hashtag) used when posting on SNS as it is in reality. Please use the pedestal in front when shooting.

Exhibition place

Look, listen, touch!
Experience art!

Shidare Museum

Artist04

Soap bubbleartistSUGIYAMABROTHERS

The brother unit of Hiroyuki Sugiyama and Teruyuki Sugiyama, who started the world's first "soap bubble show". Acquired many soap bubble world records. For more than 50 years, he has continued to impress children and adults with his soap bubbles.

Works on display

❶The

Sugiyama Brothers Soap Bubble Square

シャボン玉アーティスト杉山兄弟監修のシャボン玉広場。様々な道具を使ってシャボン玉で遊ぶことが出来る。六甲山の上で、子どもから大人まで、シャボン玉の魅力に触れてみてください。

(雨天・荒天時は展示中止。対象年齢:4歳以上)

注意:シャボン玉広場に掲示している注意事項に従い、楽しく安全に遊んでください。

Exhibition place

Look, listen, touch!
Experience art!

Shidare Museum

Artist05

CreatorMizuguchiGucciMizuguchiGuchi

At one time, he was a musician in the big band ``Akainu'', at one time the street performance music troupe ``Minimamus'', and at other times the singing group ``Micromus''. He is also an entertainer who does artwork such as manga, illustrations, paper cutouts and murals! thx. This is Mizuguchi Gucci.

Works on display

❶

Weeping swing

ロッコウシダレをモチーフに六甲山上からの絶景をゆったりと楽しめるブランコ。国立公園である六甲山の自然にあわせた木目調のブランコだが、近づいて見ると実は何かが隠れている・・・?!無理に漕がずにゆっくりお楽しみください。

(雨天・荒天時は展示中止)

Exhibition place

Look, listen, touch!
Experience art!

Shidare Museum

Artist06

IllustratorSaigetsu_

An illustrator who creates works based on the motif of actual places, with the theme of "Scenery seen by someone". The scenery drawn in pastel colors is somewhat nostalgic, and the mysterious view of the world that makes you feel as if you have wandered into a parallel world expands the world of the viewer.

Works on display

❶Parallel

photo spot

The pastel-colored parallel world drawn by Mr. Saigetsu appears as a photo spot in Rokko Garden Terrace area as well as the weeping rocks. Please visit 8 photo spots such as optical illusions and face panels.

Exhibition place

Look, listen, touch!
Experience art!

Shidare Museum

Artist07

Contemporary artistYukinoOhmura

With the desire to make art more familiar, she creates paintings that express night views and landscapes using round stationery stickers that can be easily pasted. A contemporary artist active in presenting works both in Japan and overseas. He is expanding the range of his activities, such as serving as a circle sticker art lecturer on a TV program.

Works on display

❶Four

Seasons of Mt. Rokko

Magnificent changes of the four seasons shown by Mt. Rokko. How far can we express that beauty with the visitors using familiar items such as round stickers? This is a participatory workshop work that will be completed together with the visitors during the exhibition.

注意:見本の通りに丸シールを貼って下さい。丸シールで文字やイラストを描かないでください。

Exhibition place

Look, listen, touch!
Experience art!

Shidare Museum

Artist08

20 year old college studentYokoyaShimamura

An art unit of Waka Yokoya and Momoko Shimamura formed in response to requests for artists of the same age (20 years old) to exhibit at Rokko Garden Terrace which celebrates its 20th anniversary. Hatachi is said to be an adult, but he is still a child inside. Please take a look at our fresh works.

Instagram: https://www.instagram.com/waka_yokoya

Instagram: https://www.instagram.com/momo100_s

Works on display

❶

Nature Landolt Rings

I don't know who said it, but strangely enough, everyone has said it. It just seems to have a soothing effect on the eyes. I wonder what it would be like to have an eyesight test on a mountain.

注意:ロッコウシダレから見える東西南北の計8か所に視力測定の「C(ランドルト環)」が隠れています。「C」を探しながら、遠くの景色や自然をお楽しみ下さい。

Exhibition place

Look, listen, touch!
Experience art!

Shidare Museum

Artist09

Electronic musicianHirotaka Shirotsubaki

Electronic musician from Kobe City. Memories of the city of Kobe, where he was born and lived, and the scenery in his mind are unraveled and rewoven into abstract music. In 2018, he released an album from the Spanish label "ARCHIVES", and his fans are spreading overseas.

Works on display

❶Four

seasons music

With the theme of "Four Seasons", which is also the theme of Rokuko Shidare, environmental music suitable for spring, summer, autumn and winter will be exhibited in wind chamber. Why don't you relax a little during the changing time with a set list of 4 songs that changes every 15 minutes?

❷

風の動きの可視化実験

風室の換気機能を目で見て体感するために、4分に一度スモークを噴出します。室内の空気が循環する様をゆっくりとご覧ください。

Exhibition place

Look, listen, touch!
Experience art!

Shidare Museum

Artist11

Light-upartistMasayuki Fushimi

Acts as a tool of expression that enriches life by coloring everyday spaces and urban spaces through light. Worked on lighting up the weeping rocks for 12 years since opening. A soft light-up program that is conscious of harmony with nature envelops facility users in gentle light.

Works on display

❶

Light Scape in Rokko

The changes of the four seasons woven by the plants that grow in Rokko Alpine Botanical Garden are expressed using LED lights that can express more than 10 million colors. Please enjoy the gentle and soft light show that depicts the colors of plants that change with each season.

春:桜 2023年3月18日(土)~5月31日(水) 18~21時

夏:夏の花 2023年6月1日(木)~8月31日(木) 19~21時

秋:紅葉 2023年9月1日(金)~11月23日(木・祝) 17~21時

冬:雪の花 2023年11月25日(土)~2024年1月8日(月・祝)の土日祝 17~20時

※2023年12月31日(日)・2024年1月1日(月・祝)は実施無し。

Exhibition place
Exhibited
Works
workshop
Workshop 1

#ROKKO Let's make a tote bag

Draw your favorite color or picture on the coloring book of artist Yoshihiro Sagawa's work "# ROKKO" and print it on the tote bag on the spot! Let's make only one original tote bag in the world!

Participation fee

1,500 yen (with tote bag, coloring book, and crayons)

Venue

Horti store

Holding period

Horti business days (reception possible until 1 hour before the store closes)

way to participate

If you wish to use it, please ask Horti store staff.

Workshop 2

大村雪乃「六甲山の四季」ワークショップ

ロッコウシダレに訪れた来場者の皆さんに「文房具の丸シール」を貼って頂き、六甲山の四季を描きます。10,000枚以上に及ぶ丸シールを使って巨大な絵を完成させよう!

(画像は2022年のシダレミュージアムの様子)

Participation fee

無料(六甲枝垂れ入場料金のみでご参加いただけます。大人1,000円/小人500円)

Venue

自然体感展望台 六甲枝垂れ「回廊」

Holding period

春:2023年3月18日(土)~
夏:2023年6月1日(木)~
秋:2023年9月1日(金)~
冬:2023年11月24日(金)~
※それぞれの会期中、作品が完成し次第終了となります。完成後は作品鑑賞をお楽しみください。

way to participate

現地にて先着順。お客様同士譲り合って作品作りにご参加ください。
And More
More workshops will be held!
Workshop
light up
event
Lightscape in ROKKO Shokubutsu no Akari
At Rokko Shidare, the light show "Lightscape in ROKKO Shokubutsu no Akari" by artist Masayuki Fushimi will be held at night time! Please enjoy the soft and gentle light-up with the motif of the plants that grow naturally on Mt. Rokko.
Holding period

March 18, 2023 (Sat) - January 8, 2024 (Mon/holiday)
*From November 24th (Fri) to January 8th (Mon/holiday) during the winter season, the event is held only on Saturdays, Sundays, and holidays.
*No event on December 31st (Sunday) and January 1st (Monday/holiday).
Click here for details on the annual schedule
illumination