With a tap
Enlarge

Map
You can drag
Women's toilet
Toilet for men
Coffee / Snacks
gift
Parking Lot
Introduction of typical flowers seen in the area
① [Hydrophyte district]

Waterbath

Araceae / Flowering April

A perennial that grows in white marvelous flowers in the wetlands of snowmelt water. The white solid petals are actually bracts with deformed leaves, and the yellow sticks are the spikelets.

② [Hydrophyte district]

Nikkosuki

Susukino family / Flowering June-July

It is a perennial plant with a height of 40 to 70 cm that forms a community on the subalpine swamp and dyes the entire area orange. The leaves are bright green. A flower that sways in the morning and evening.

③ [Hydrophyte district]

Ensou

Ranunculaceae / Flowering May

Golden flowers that form communities along mountain wetlands and mountain streams. The stem that stretches out in all directions, centering on the plant, is used as a monkey's arm and written as "monkey grass".

④ 【Hydrophyte district】

Cleanse

Primrose / Flower May

A perennial that grows in the valley waters and in the swamps of the mountains. The Japanese name attached to the nine-wheeled pagoda is the ring-shaped flowers blooming in multiple steps. We are proud of the community of about 6,000 stocks.

⑤ [Rock Garden Japan Ward]

Dicentra

Poppy / Flower May-June

It is called the Queen of Alpine plants in Japan, and the large community is unique to this garden. It is a noble flower that protects loneliness in a harsh environment where other plants cannot grow.

⑥ [Rock Garden Western Area]

Edelweiss

Asteraceae / Flowering June

It grows in sunny rocky areas in Europe with an altitude of 3,000 to 3,500 m. From the shape of the flower, it is called the "Alpine star" and shows the courage of the mountaineers.

⑦ [Himalaya Ward]

Meconopsis bethnikifolia

Poppy / Flower May-June

A type of blue poppy called blue poppy, which has petals like transparent Japanese paper. It grows naturally in the Himalayan hinterland at an altitude of 3,000m to 4,000m. It is also called the "Himalayan Blue Poppy".

⑧ [Hydrangea garden]

Shichidanka

Hydrangea family / flowering June-July

It was a phantom hydrangea that was introduced to Siebold's book "The Japanese Botanical Magazine" as a famous flower, and was accidentally rediscovered at Mt.

⑨ [Tree forest district]

Katakuri

Lily family / flowering March-April

A flower called "Spring Fairy". It takes 7 to 8 years from seeds to flowers. The flowers open only on sunny days, and when the flowers are finished, the above-ground parts disappear so that they can be dissolved.

⑩ [Forest]

Sardine

Plumaceae / Flowering April

It is a perennial that grows under deciduous forests with a few days of tree leakage. It grows on rocks and is named because the shape of the leaves looks like a fan.

⑪ 【Tree forest district】

Beech

Beech family / Yellow leaves October-November

A Japanese deciduous tree that is 30 meters high and is unique to Japan. Beech forest grows various flora and fauna and rich nature and is called "green dam". It is a tree with beautiful spring greenery and autumn yellow leaves.

⑫ 【Tree forest district】

Prickly pear

Magnoliaceae / flowering June

It is a deciduous shrub with a height of 4 m and is rarely seen in the deep mountains and rarely seen in deep mountains. It produces magnificent flowers (diameter 5-9 cm) with pure white fragrance.

⑬ [Flower field (July-September only)]

Higotai

Asteraceae / Flowering August-September

It grows on a slightly dry grassland. It used to be a flower that was often seen in the past, but is now designated as an endangered species. Each of the small thorns is a flower, which gathers into a sphere.

⑭ [Flower field (August-September only)]

Ominaeshi

Oleaceae / Flowering August-September

One of the seven autumn herbs that appear in Manyoshu. From the supple and feminine appearance, I write "Shirohana".

⑮ [Hydrangea garden]

Hydrangea

Hydrangea family / flowering July

It is dyed in bright blue on the acidic soil of Mt. Rokko. This name was given because of her feminine and graceful appearance.
Introduction of movie theater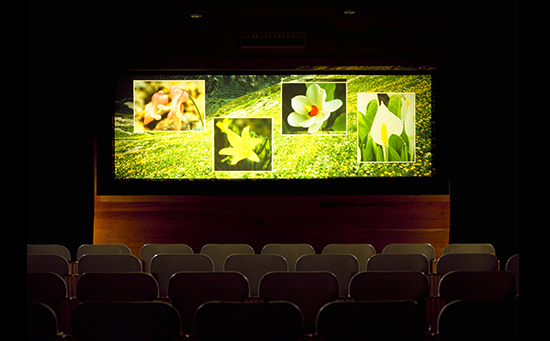 The flowers that bloom in the garden throughout the year are introduced on a DVD in a fun and easy-to-understand manner. You can enjoy the alpine plants of each season here.