You can experience hair arrangement using real flowers.
Anyone, from children to adults, can participate!
[Date and time]10/17 (Sat),18 (Sun), 31 (Sat), 11/1 (Sun), 3 (Tuesday)
11: 00-16: 30 Canceled in case of rain.
[Place] Near the west entrance of the botanical garden
[Reservation] Not required. Reception at any time.
[Time required] About 15 minutes
[Price] 1,000 yen ~ Hair arrangement fee included. You can take the used accessories home with you.
* A separate admission fee is required. You can enter the park with a Viewing Passport Rokko Meets Art 2020 and other common tickets.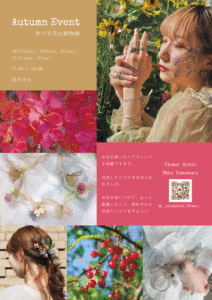 ~ Introduction of store owners ~
-Flower Artist-
Mika Yamamaru (instagram / online store)
"Getting closer to flowers"
"Make girls more cute"
We produce and sell accessories and bouquets using fresh and dried flowers under the theme of.