List of required time of foot, bus
The needed time to travel between facilities by bus or foot (min.)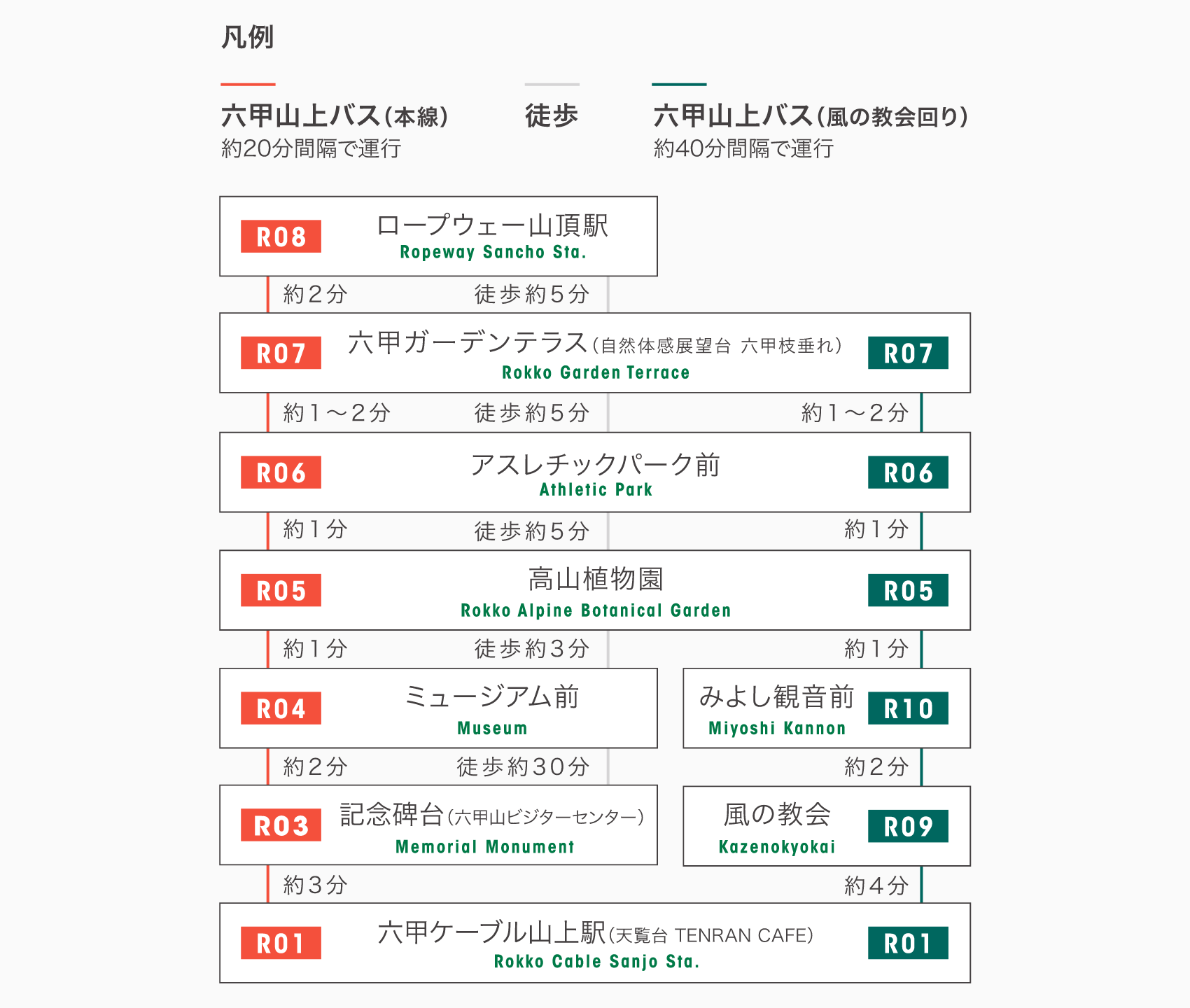 (Charged)
Rokko Sanjo Bus (main line)
This bus runs between Rokko Cable Car Sanjo Station and Ropeway Sancho Station (Rokko Arima Roupway).
▲ Rokko Garden Terrace Stop
●Do not go through Rokko Garden Terrace
★Arima Line Ropeway last connection flight
(R01-R08) Bus route name and bus stop number
Rokko Sanjo Bus (around Chapel of the Wind)
It is a mountain bus around the Chapel of the Wind of the Wind for a limited time during the exhibition.
(R01-R10) Bus route name and bus stop number
Rokko Maya Sky Shuttle Bus (Charge)
If you are visiting Rokkosan Ranch or Maya Ropeway Yamagami Station, please use this Rokko Maya Sky Shuttle Bus. Please note that you will not drive from the Rokko International Musical Box Museum to the Rokko-Arima Ropeway.
*When you come to Rokko-Arima Ropeway, change to the Rokko Sanjo Bus at the "Memorial Monument" stop.
Rokko-Arima Ropeway
It connects Rokko Sanjo with the satellite venue, Arima Onsen area. Timetable etc. Here
* Congestion is expected during the autumn leaves season. * The service will be suspended during strong winds and stormy weather.
There is no public transportation that connects Arima Onsen and Mt. Rokko during suspension. Please refer to the figure below.