last updated

2020/07/02

release date

2020/05/19
[First step] Official website renewal project started!
With the restrictions on going out, so that you can send accurate information to everyone more quickly and with peace of mind.
The official website will be renewed several times.
In this renewal, mainly
top page
Event information page
Information page
Was renewed.
In addition to redesigning the design, we have improved the function so that visitors and visitors to Rokkoyama can easily search and collect information so that they can know more about the Rokkosan facility. I will come.
Today is May 19th 2020 (Tuesday) as the first bulletin, and we will renew the page at any time, so we apologize for the inconvenience when browsing the site because the old and new pages are mixed, but please humbly. Thank you for your understanding. ..
Top page function introduction
You can quickly check the latest information
With a full renewal of the top page, we will implement a function that displays not only the latest event information, but also events and business hours suspension/change information in a pop-up, so that we can deliver more fresh information to everyone. Become.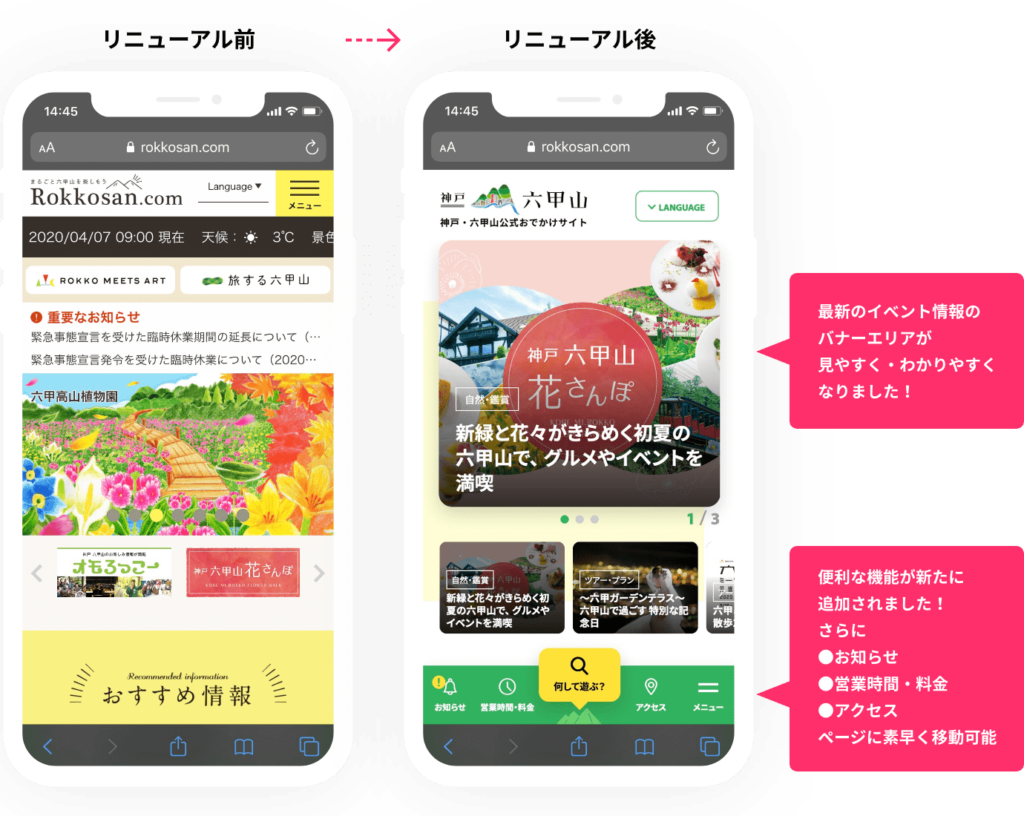 Add search button by purpose
A new function has been added that allows you to search for information by various purposes by clicking the "What to play?" button!
① "Search by purpose" function button
Information can be searched for purposes such as [play] for outdoor activities and BBQ, [eat] for cafes and restaurants, and [buy] for souvenirs and goods.
② "Search event from tag" function button
You can search for related information from the hashtags (#◯◯◯) installed in "Notice" and "Season Event".
For example, it is convenient when you want to see facility information collectively, or when you want to search for information by conditions such as "# limited time period", so please use it.
③ "Search by keyword" function button
You can search for "Notice" and "Season Event" information from any word.
*Some content is not included in the search.
Please note that you cannot search from the entire site.
We will continue to update the site from time to time!
There are many features that I haven't introduced yet, but I will continue to introduce them in the future.
In addition, this renewal started as the first.
We will continue to make the second and third parts and this site comfortable for everyone to use, so we look forward to your continued support.