Last updated

2022/05/14

Release date

2022/05/14
Rokko Full Pass is on sale!
・ ・ ・ ・ ・ ・ ・ ・ ・ ・ ・ ・ ・ ・ ・ ・ ・ ・ ・
Click here to purchase (go to the Webket site)
・ ・ ・ ・ ・ ・ ・ ・ ・ ・ ・ ・ ・ ・ ・ ・ ・ ・ ・

Buy a ticket for Rokko Cable Car, Rokko Sanjo Bus, and an admission ticket for Yamagami facilities all at once! Let's play for a great deal!
What is included in the Rokko Full Pass
[1] Table Rokko Tour Ticket
・ Rokko Cable Car Round Trip, Rokko Sanjo Bus (1 day free) set ticket
[2] Ticket common to all 3 facilities
・ ROKKO Forest Sound Museum
・ Rokko Alpine Botanical Garden
・ Natural Experience Observatory Rokko Shidare
Release period
Until Thursday, August 25, 2022
price
Adults (junior high school students and above) 3,000 yen
Child (elementary school student) 1,500 yen
* Compared to purchasing locally, you can save 170 yen for adults and 90 yen for children.
・ ・ ・ ・ ・ ・ ・ ・ ・ ・ ・ ・ ・ ・ ・ ・ ・ ・ ・
Purchase from here (Go to the Webket site)
・ ・ ・ ・ ・ ・ ・ ・ ・ ・ ・ ・ ・ ・ ・ ・ ・ ・ ・
How to use
Be sure to bring the issued QR with you Rokko Cable Shita Station Please redeem your Full Pass Mt. Rokko at.
Notes
・ Business days and hours vary depending on the facility.
・ Sales are linked Webket Will be. (Card payment only)
・ There is no sale at Rokko Cable Shita Station. Please be sure to purchase in advance.
・ Webket membership registration (free) is required.
・ Infants over 4 years old can board the Rokko Cable Car / Rokko Sanjo Bus for free, but the entrance fee for Rokko Morinone Museum / Rokko Alpine Botanical Garden / Nature Experience Observatory "Rokko Weeping" is from 4 years old. You will need it, so please purchase an admission ticket at each facility.
About cancellation
・ If it is 60 days from the date of purchase My page of "Webket" You can cancel from.
・ Please note that cancellations after August 25, 2022 cannot be made within 60 days.
・ Purchase for resale is prohibited. Resale tickets will be invalid.
About holidays
・ Rokko Cable Car ・ ・ ・ Open all year round
・ Rokko Morinone Museum ・ ・ ・ Every Thursday * Excluding 7 / 21-8 / 25
・ Rokko Alpine Botanical Garden ・ ・ ・ Every Thursday * Excluding 5/5 ~ 6/16, 7/21 ~ 8/25
・ Rokko-Shidare Observatory ・ ・ ・ Open all year round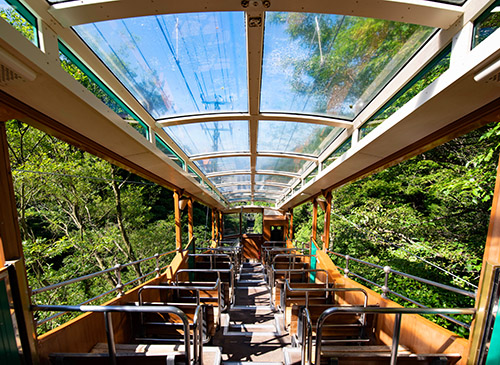 As the gateway to Mt. Rokko, it connects the cable Shita station to Yamagami station for about 1.7km and the height difference of 493.3m in about 10 minutes. We are driving with a box-shaped car on the upper side of the mountain, which is rare in the world, and an observation car on the lower side of the mountain.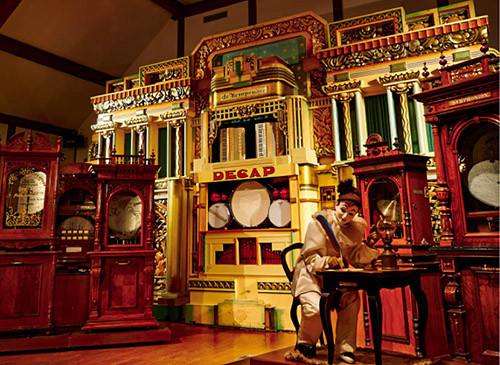 Opened on July 21, 1994 as a museum that collects musical box and other mechanical instruments. In 1996, it was designated as the first museum-equivalent facility in Japan as a museum of mechanical instruments. Reopened on July 16, 2021 as the current "Rokko Morinone Museum".
In the concert room on the 2nd floor, the commentary staff will hold a concert of mechanical instruments every hour, and you can actually listen to the sounds of the collection.
In addition, you can enjoy the scenery of the four seasons and various flowers at the SIKI Garden ~ Sound Walking Path ~ on the premises, and you can relax on the "Sound Bench" where music automatically plays when you sit down, a hammock, a wooden deck, etc. ..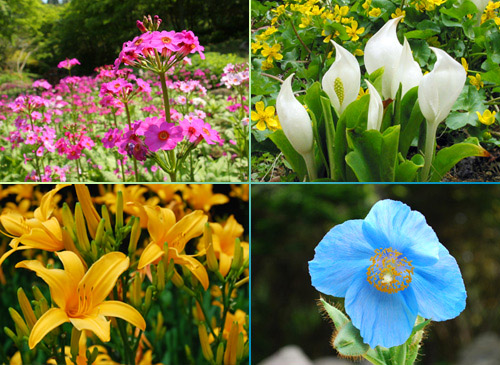 Located at 865m above sea level, taking advantage of the cool climate, about 1,500 species such as alpine plants, cold region plants, Rokko native plants, and wild grasses from around the world are cultivated in a state close to the wild. You can enjoy the nature and scenery of each season, such as the early spring flowers that bloom by breaking the snow, the fresh green of early summer, and the autumn leaves. There is also a general store and cafe associated with plants.
Rokko-Shidare Observatory (inside Rokko Garden Terrace)

"Rokko-Shidare Observatory" like a big tree standing on Mt. Rokko. At the cypress-roofed observatory, the frame, walls, and floor are made of hinoki cypress carefully selected in the forest of Yoshino, Nara Prefecture. It is an observatory where you can feel the light of the cypress.
・ ・ ・ ・ ・ ・ ・ ・ ・ ・ ・ ・ ・ ・ ・ ・ ・ ・ ・
Click here to purchase (go to the Webket site)
・ ・ ・ ・ ・ ・ ・ ・ ・ ・ ・ ・ ・ ・ ・ ・ ・ ・ ・