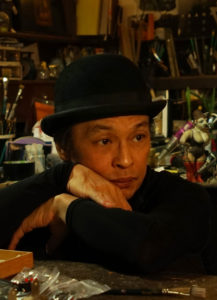 Muttoni special performance
We will invite the Karakuri puppeteer Muttoni (real name: Masahiko Muto) from the special exhibition "musical box Theater of Muttoni" to perform the work by the artist himself.
This is a valuable opportunity to enjoy the world of works by listening to and listening to the artists' thoughts about the works, such as secret stories about the works.
In addition, the participation fee for this special performance includes the "Kobe Musical Box" with the autograph of Muttoni.
musical box song is Muttoni's own composition "Musician". The "Kobe Musical Box" this song is not sold, so it is a limited item that can only be obtained by event participants.
* Muttoni's work on display cannot be photographed. In addition, during the period of this special exhibition, we ask that you refrain from taking photographs in the concert exhibition room, except for some exhibits.
[Schedule] 2020/10/17 (Sat)
[Performance time] 17: 15 ~, 18: 00 ~, 18: 45 ~ (approx. 30 minutes, including work performance time)
* Reception: From 16:30, the reception will be on the 1st floor.
* Opening: Please gather in the concert exhibition room on the 2nd floor 5 minutes before the start time of each session.
[Capacity] Each time30Name → increased seats 37 people (total)90→ 111 people) * All seats reserved
[Fee] 3,500 yen (tax included) / time (including admission fee and limited musical box)
* If you arrive by 16:20, a normal admission fee will be charged separately.
[Reservation] September 18th (Friday) -October 16th (Friday)
Reservations can be made via the WEB or by phone (078-891-1284).
※満席となりました。キャンセル待ちご希望の方は、お電話(078-891-1284)にてお問合せください。→10/15キャンセル待ちもすべて終了いたしました。
※WEB予約は0:00~、電話予約は10:00~受付開始となります。
※キャンセルはお電話(078-891-1284)でお願いします。
* It is possible to participate multiple times. In that case, you need to apply each time. In addition, a participation fee will be required each time. A limited musical box will be given for each participation.
[Business hours of the day] 10: 00-19: 30
Strauss Cafe 11: 00-19: 00 (18:30 L.O.)
Museum shop Tokino 10: 00-19: 00
* Only customers who participate on the day will receive it at the venue.
* During the special exhibition "Muttoni musical box Theater", the limited edition "Muttoni Special Collaboration "Kobe Musical Box"" will be on sale at the museum shop Tokino, but it may be out of stock.
You can reserve it from the WEB or by phone (078-891-1284) 10 days before your visit.
What is the special exhibition "musical box Theater in Mottoni"?
[Holding period] Saturday, September 12, 2020-Sunday, December 27
The work of Karakuri puppeteer Muttoni will be performed in collaboration with the collection of the Rokko International Musical Box Museum.
Muttoni is a fusion of pre-programmed doll movements, music, and light effects, and sometimes the author himself adds words to create the world of his work. In this exhibition, music, which is an important element of the work, will be performed by the performance of mechanical instruments such as antique musical box owned by the museum. As a result, the interpretation of works by the museum's collection will be added to Muttoni's works, expressing new possibilities for the works.
For more information here please visit.